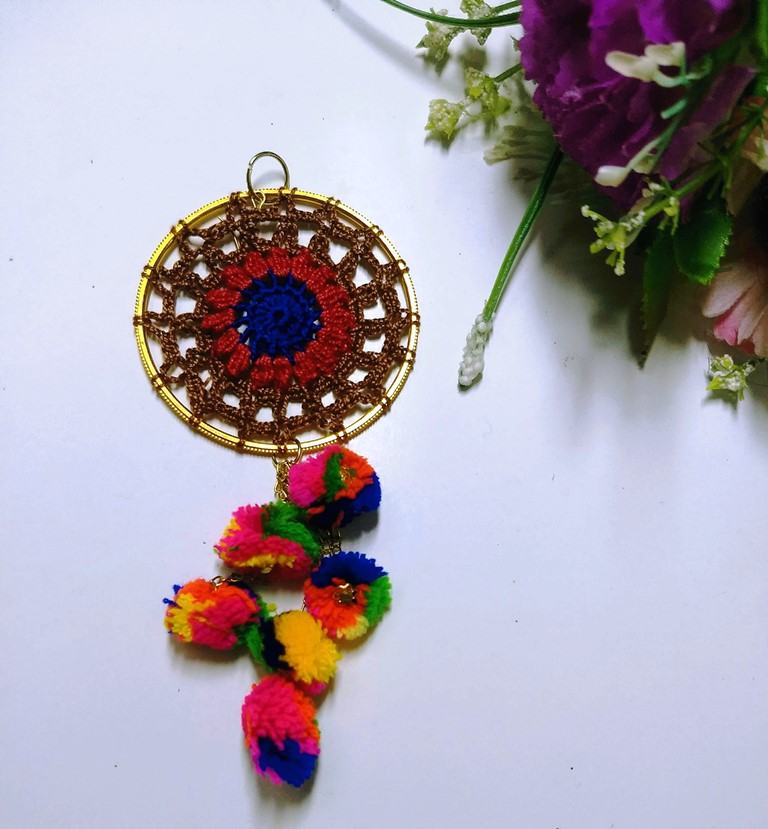 Mini Dream catchers are special decorative items. I mean them to have mystic properties and they are often as gifts for protection.
Making a crochet dream catcher isn't the most difficult of tasks, but having a pattern to work from is always helpful. We make today free pattern from all the trash left, Used a bangle, a tiny practice motif and unused Pompom Earrings.
I work on this pretty motif used in two colours. I crochet it in the round, starting in the centre with the flower and working outward from there. This is an easy crochet project that works up quickly.
 Supply List for Mini Dream Catcher:
Yarn or Crochet Thread: Anchor No. 40 Crochet Cotton Thread of 3 colours.
Crochet Hook Size: To crochet the flower, we used a size I.75mm crochet hook.
Wooden Ring of Size 2.4'' or any waste metal bangle
Mini Pompom Balls or Artificial Feathers.
Tapestry needle for weaving in ends
Finished Size:
The motif measures about 2.3 inches in size. The sizes will vary based on supplies used and other factors.
General Direction:
http://www.avyastore.com/the-crocheters-guide-to-general-instructions-few-tips/
Crochet Abbreviations Used in the Mini Dream Catcher:
Slip Stitch= sl st
Single Crochet= sc
Chain = ch
Double Crochet = dc
Treble Crochet = tr
To know more about the various crochet abbreviations click the below link :
Pattern Stitches for Mini Dream Catcher:
Popcorn (pc): Ch 3 (counts as dc), 4 dc in same st or sp, drop loop from hook, insert hook in the 3rd ch of beg ch-3, pick up the dropped loop and draw through.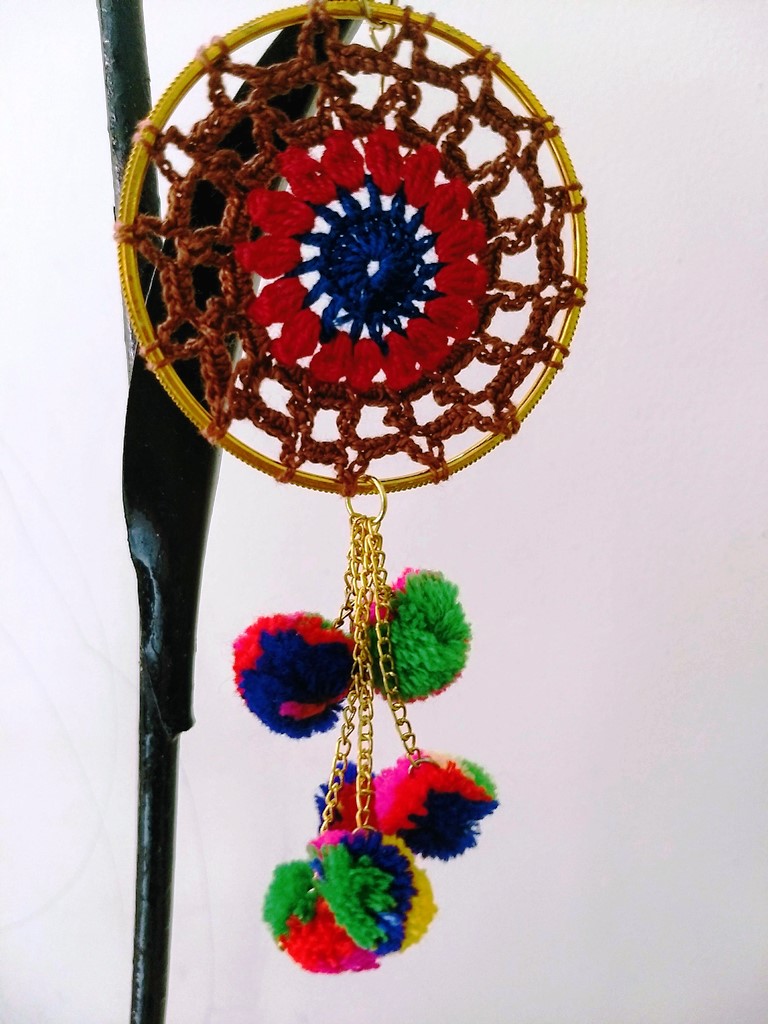 Details Instructions for the Mini Dream Catcher:
Motif Pattern-
Using Color A makes a magic ring.
Round 1
3 ch, 15 dc into wraps, ss in 3rd of 3 ch, 16 sst.
 Round 2
4 ch, (1dc, 1 ch) in each of the 15 dc, ss in 3rd of 4 ch. Fasten off A, Join B to any 1-ch sp.
Round 3
4 ch, 3 tr in the same sp remove the hook from working loop and insert through 4th of 4 ch, catch working loop and pull it through, (3 ch, PC in next ch sp) 15 times, 3 ch, ss in 4th of 4 ch at beg of rounds.
Fasten off B. Join C to any 3-ch sp.
 Round 4
1 ch, 3 sc in same ch sp, (5 ch, 4 sc in next ch sp) 15 times, 2 ch, 1 dc in the first ch of round.
Round 5
1 ch, (4 ch, 1 sc in next 5-ch loop) 15 times, 4 ch ss in the first ch of round.
 Round 6
Ss into next 4-ch sp, 1 ch, 2 sc loop around the circle 2 sc in same ch sp, (5ch, 5 sc in next ch sp) 15 times, ch ss in the first ch of round.
 Fasten off; use the Tapestry needle to weave the ends.
Hang the pompom and a hook, the dream catcher is ready.
Other than the dreamcatcher, we can use the motif as follows
Slight thick yarn can convert the design in pretty coasters.
We can convert multiple motifs to table liner.
Add as a pretty establishment.
A perfect Christmas Gift.