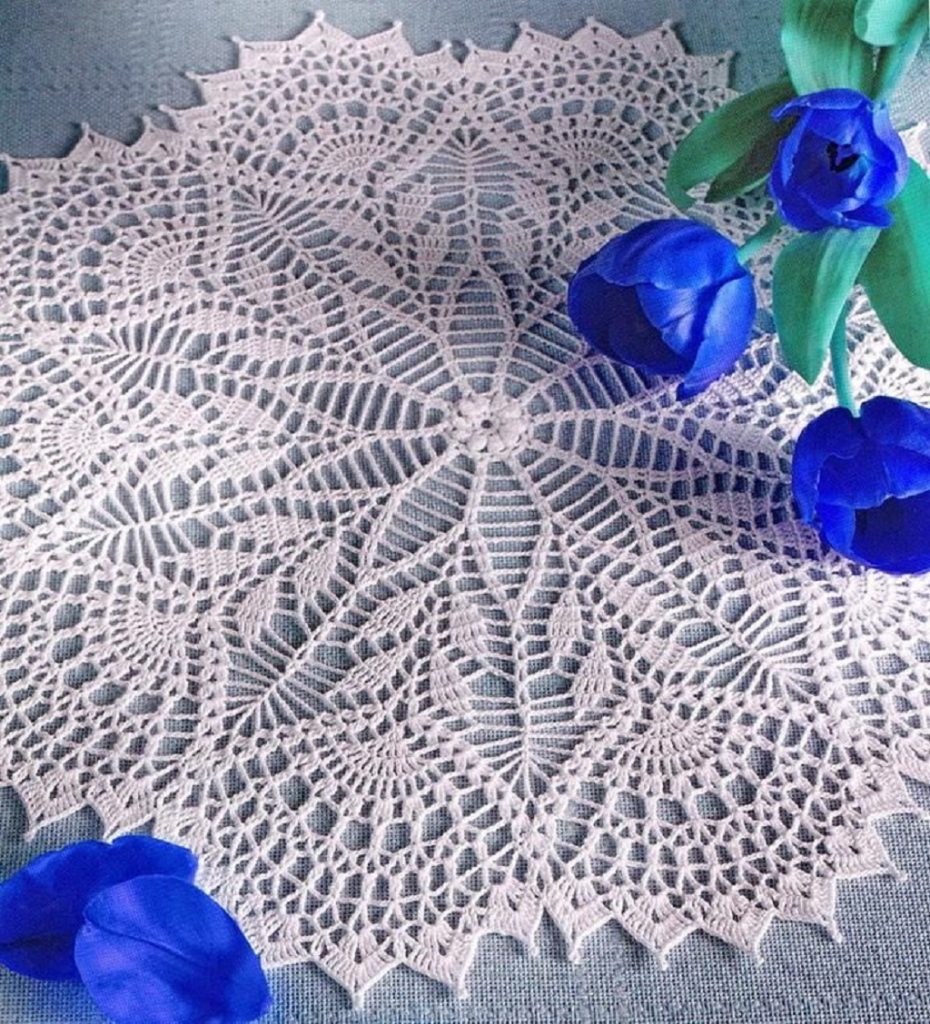 Little is known of crochet's early history. It seems likely that the earliest crochet was made using fingers, rather than the hooks used today. There are theories that crochet could have existed as early as 1500 BC, as part of nun's work, which included needlepoint lace and bobbin lace.
There are three main theories for the origin of crochet. Some believe that it originated in Arabia and spread eastward to Tibet and then westward to Spain, finally following the Arab trade routes to other Mediterranean countries. Alternatively, it's thought to have originated in South America, where a primitive tribe used crochet adornments in puberty rites. Another alternative stems from the fact that in China, early examples were known of dolls worked in crochet.
However, there is no solid evidence as to how old crochet is or where it originated. The evidence of it appearing in the sixteenth century is slight, and hotly disputed. There are references to a type of "chained trimming" made around 1580. However this appears to have been a type of cord, sewn onto fabric like an ornamental braid.
During the Renaissance, women crocheted several strands of thread producing fabrics similar to lace.
The earliest evidence of crochet, as we know it, is first commonly seen in the second half of the eighteenth century. Crochet may have developed from Chinese needlework, an ancient form of embroidery known in Turkey, India, Persia and North Africa, which reached Europe in the eighteenth century, and was referred to as tambouring.
The main theory behind the origin of crochet seems to be that it began when it was realized that chains worked in a pattern would hang together without background fabric. At the end of the eighteenth century, tambour evolved into what the French called crochet in the air, when the background fabric was discarded and the stitch worked on its own. Tambour hooks were as thin as sewing needles, and therefore the work must have been done with very fine thread.
Crochet began to emerge in Europe in the early nineteenth century, boosted by Mlle Riego de la Branchardiere, well known for her ability to take needle and bobbin lace designs and turn them into crochet patterns that could be duplicated. She published numerous patterns and also claimed to have invented lace-like crochet, today called Irish crochet.
Some researchers believe that crochet originated in China as a type of needlework called "tambouring." Though this was not used to create custom afghan blankets and afghan throws, as crochet is used today, its interlocking weaving of yarn could possibly have led the way for modern crochet. Instead of a hook, this craft used a thin needle that produced a tight weave. This may have been the origin of afghans, with the delicate fabric leading the way for women to create baby afghans to warm their children
Other research suggestions that crochet began in the 16th century in England and France. At that time crochet was not used to make the crocheted afghans and afghan throws that we use, but rather to make chains of delicate lace. Instead of the thicker yarn us ed to make today's afghans, thinner homespun thread was used to make the intricate patterns that were highly prized.
Even though these precursors to crochet afghans and afghan throws were thought to begin in these early years, the first tangible evidence of modern crochet was not found until the 19th century. This pre-dated the crochet hook and creating a crochet afghan or afghan throw at that time was done entirely by hand, using fingers to loop the thread together. It took many hours and nimble fingers to make a crocheted afghan without the use of a hook.
Once crochet was learned to make beautiful baby afghans and custom afghan blankets, it eventually became a common hobby throughout the world, eventually spreading to North America. Sometime later, it was discovered that making a crocheted afghan was easier with the use of a small hook. Now made of steel, plastic or aluminum, the hooks were originally made of ivory, wood or bone. Modern crochet hooks also come in a variety of sizes to achieve different types of patterns often seen in crochet afghans. With these small hooks, making a custom afghan blanket is faster, easier and more precise.
As an alternative to knitting, this entertaining craft allowed people to create custom afghan blankets for everything from putting on their bed to soft baby afghans to give as gifts for newborns. The popularity grew even more with the availability of printed material, which allowed people access to patterns for their own custom afghan blanket or afghan throw. Magazines and books also provided instructions, therefore allowing people without access to a teacher to learn to make their own crocheted afghans.
Crochet continued to rise in popularity until World War II. With resources and manpower needed for the war effort, yarn and printed material came in short supply. Women who worked in their home were no longer making crochet baby afghans and keeping house, but were being recruited to factories. During those years of hard work, it was hard to find the time to make afghans and baby afghans. As the war ended and the nation recovered, but the demand for custom afghan blankets remained low.
It was not until the 1970's that crochet regained it's popularity. The new relaxed styles of clothing made crocheted vests, sweaters and accessories extremely popular. Both men and women were learning to make everything from a crochet baby afghans and custom afghan blankets to belts and scarves. New, vibrant colors of yarn were now available and magazines on how to crochet were prolific. With this new era, crochet was more than just a way to make baby afghans and afghans bedspreads, it was a way for people to express themselves with new colors, patterns and designs.
At that time, interest in psychology was just beginning to peak and it was found that making crocheted afghans and crochet baby afghans, like many hobbies, helped relieve stress. Not only could people created a crocheted afghan for every room of their house, but they could relax while doing it. Just an afternoon of making a crochet baby afghan could relieve the tensions of an entire week with a beautiful end result.
Crocheting afghans is relatively simple to learn with more complex styles and patterns that can be picked up with practice. It can be self taught or learned at classes and many craft stores offer instruction for both beginners and the advanced. These books and magazines feature ideas for new crochet afghans patterns and delicate crochet baby afghans.
The basic skill involves holding the hook in one hand while manipulating the yarn with the other. This creates interlocking loops of yarn that make a chain. The chain is then looped back around, using yarn from the first chain to make a second chain and then a third until the specific design is created for baby afghans, clothing, or even teddy bears. There are a variety of stitches for afghans, but the most common are the single crochet, double crochet, or triple crochet. The intricate patterns achieved in crochet afghans and afghan throws stems from varying the type of stitch while working. The greater the variety of stitches in crochet afghans, the more detailed and interesting the pattern.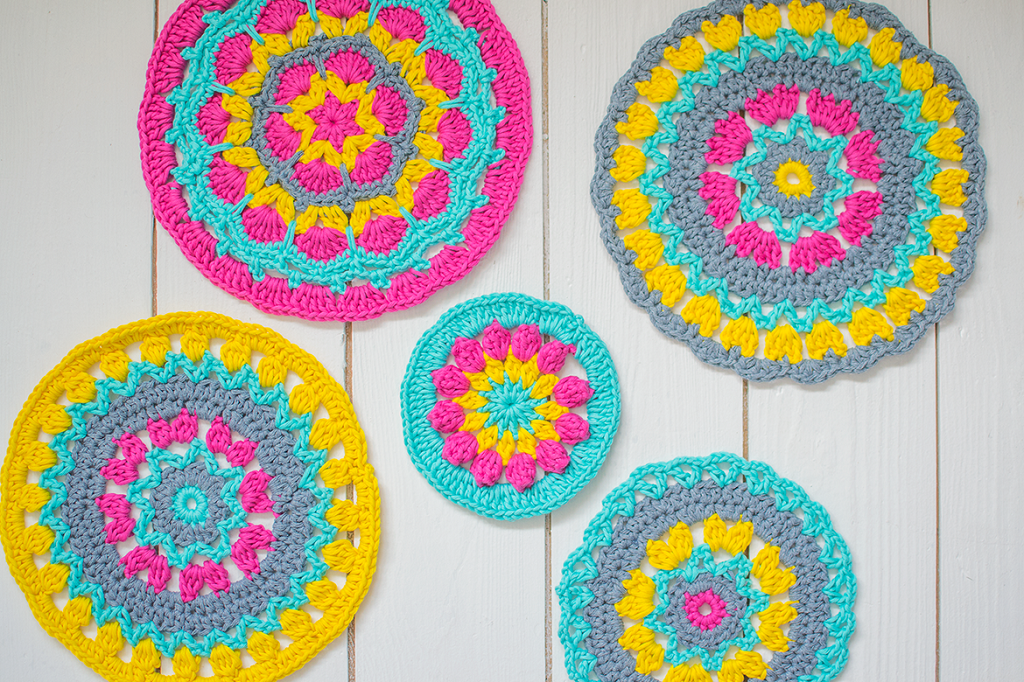 The simplest articles to weave are afghans and scarves. To make a crocheted afghan or scarf, a beginner could use a single thread color and stitch to practice their craft. Once comfortable with crochet, a novice could easily make a crochet baby afghan or afghan throw in just a few hours.
The only items needed to create afghans, baby afghans, custom afghan blankets or any crocheted craft are yarn and a hook, making it a craft easily done anywhere. With the ease of learning and the popularity of crochet afghans and baby afghans as homemade gifts, crochet will most likely be passed down through generations yet to come. For every crochet baby afghan that is made, the art will be taught to another and it will continue to evolve for others to learn, and to love.
Crochet and the Irish Connection
During the Great Irish Famine that decimated Ireland from 1845 to 1849, however, Ursuline Nuns there began teaching local women and children thread crochet. Items these locals created were then shipped to and sold in America and Europe. This was the advent of a style of crochet now commonly known as Irish lace, which was probably instrumental in helping many Irish families survive the famine. A worldwide cottage industry began to develop around crochet, especially in Ireland and Northern France. Since these items were purchased by the emerging European middle class, the upper class began to label crochet as a cheap imitation lace only suitable for the masses and touted the older style of lace made by more expensive methods as being superior.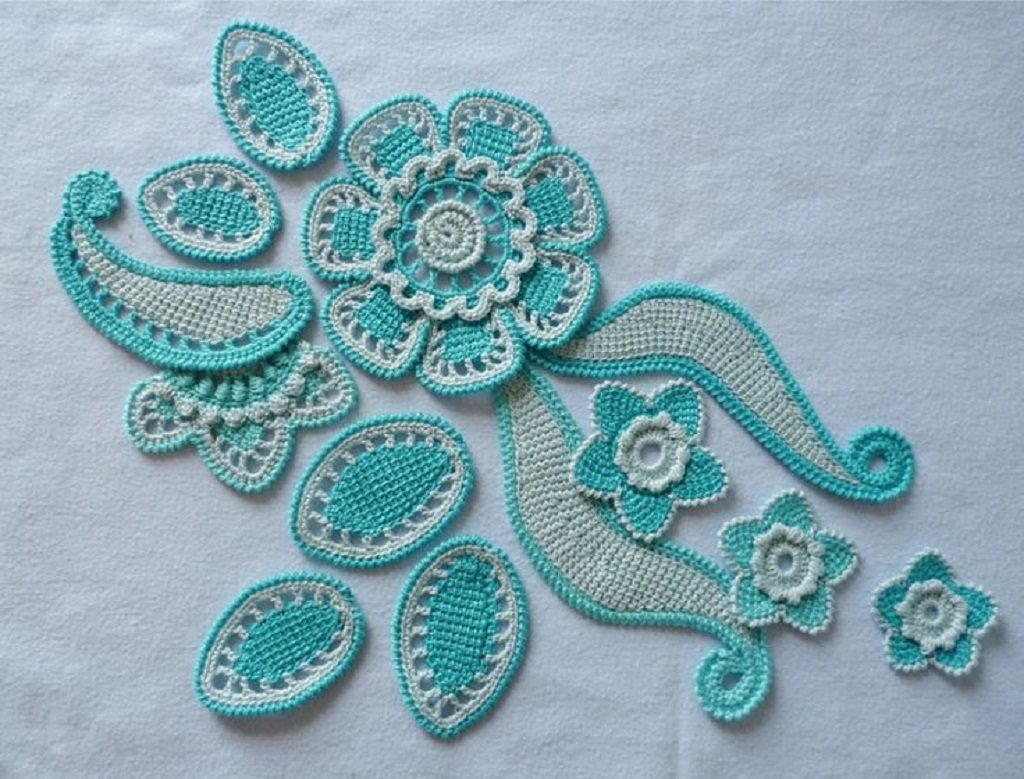 Crochet Becomes an Art Form
When Queen Victoria learned to crochet, some of the stigma was removed, and as crochet moved into the 20th century, it finally became an art form on its own. Once patterns became more readily available to everyone, a more standardized stitch size also became necessary. Soon crochet hooks were being made in various sizes in order to accommodate the required size of stitch or gauge called for in the pattern. 12Cluster Initiative On Crochet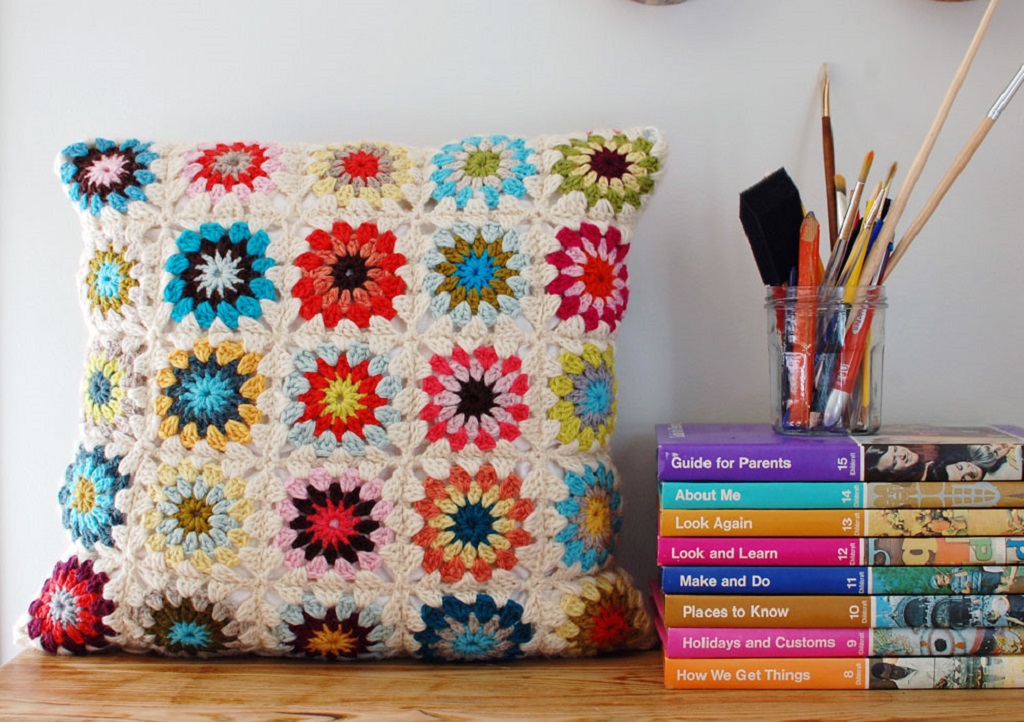 Crochet Continues to Evolve
The history of crochet continues as new stitches, as well as new techniques and designs, are being developed by a whole new generation of crocheters. Magazines and books are now devoted to crochet, and extraordinary new yarns are being spun in every imaginable style, weight and color. The lowly bent needle has itself become a thing of beauty, created by artisans in many styles, sizes and materials from wood to acrylic to polymer clay.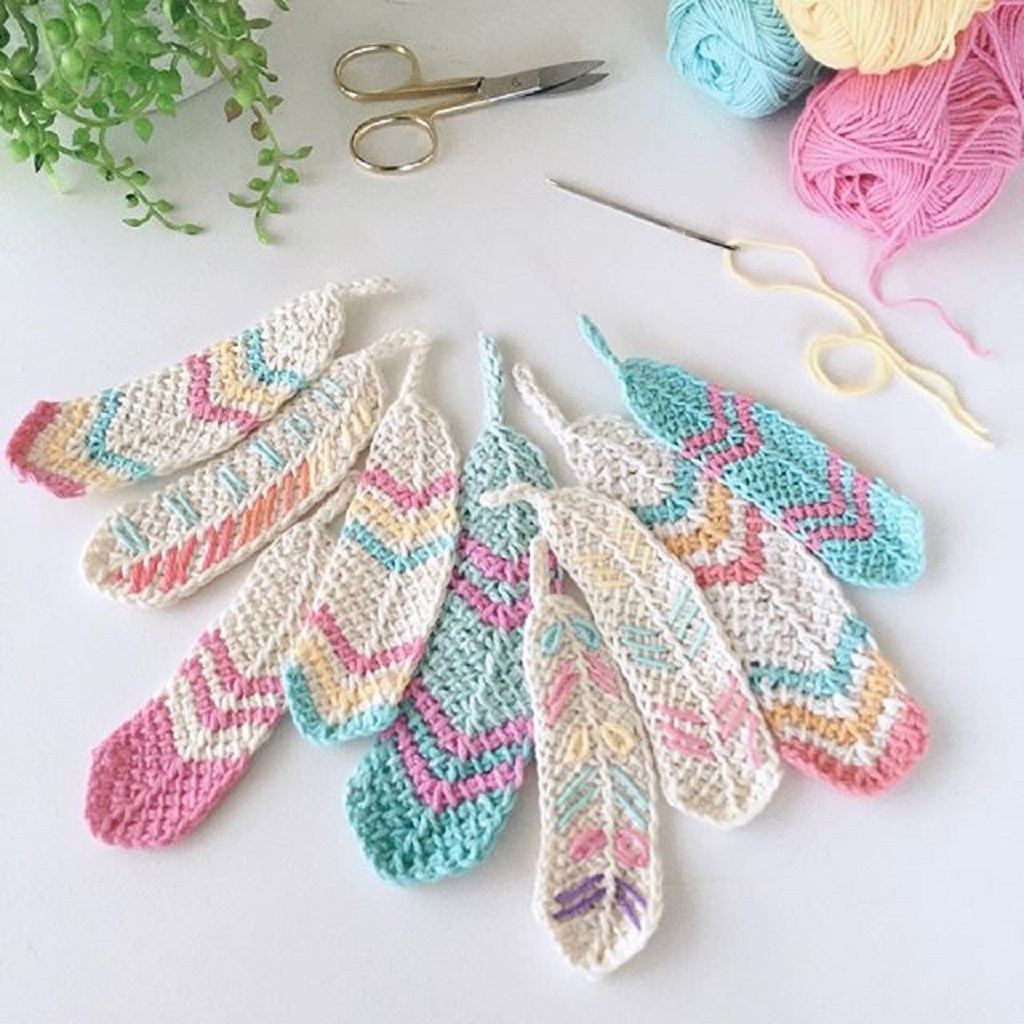 Crochet Connection with Goa
The Goan Crochet is very unique owing to the fact that it has a lot of Portuguese influence as a local favor of Goa. The designs that these artisans follow haven't been listed or published anywhere and are often passed down generation to generation. Often we observe that the 4th or the 5th generation of a family continues indulging in the art of crochet.
It has become a way of life for the Goan community and crochet is a legacy of their rich culture and heritage.