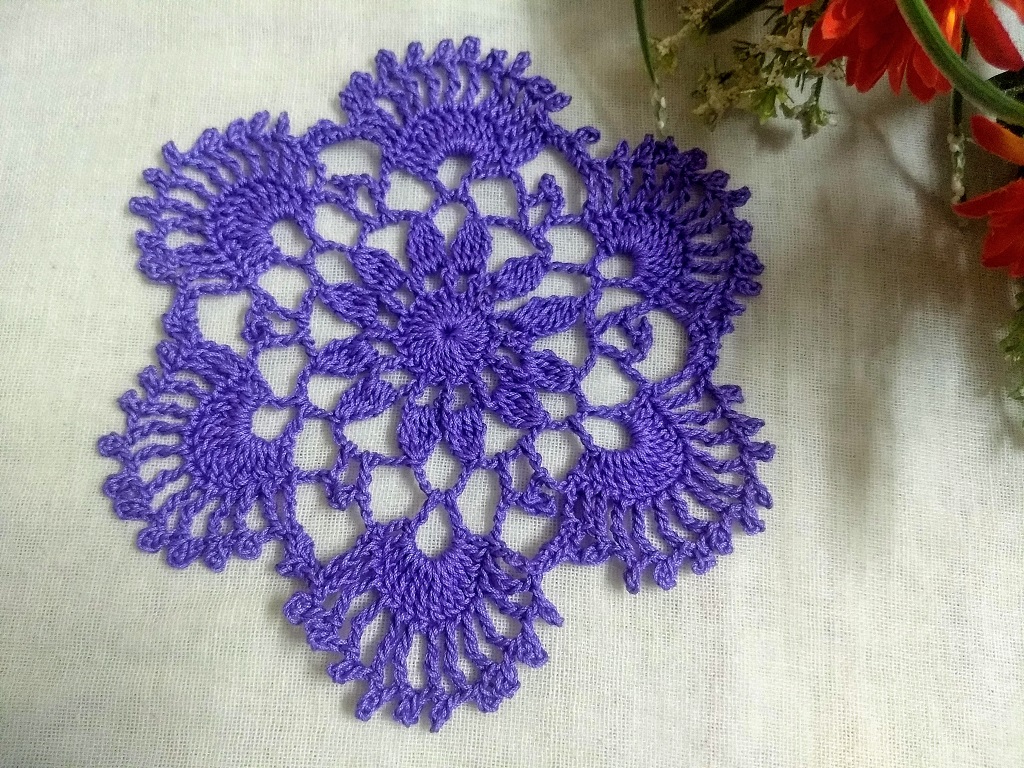 In continuation of the royal series free pattern this week we have yet another mini motif, the lace bordering is an inspiration to the earlier week design.    Love the delicate border of this doily. This is a beginner's project with simple instruction. This is a free pattern, use yarn of your choice.
This pretty motif is worked in one colors. It is crocheted in the round starting in the center with the flower and working outward from there. This is an easy crochet project that works up quickly.
Supply List for Royal Motif
Yarn or Crochet Thread: You can use just about any size fiber to make this project. We have used Anchor Size 10 Tread Color Used is Purple
Crochet Hook Size: To crochet the flower, we used a size I.75 mm steel crochet hook.
Tapestry needle for weaving in ends
Finished Size:
The motif measures about 10 inches in size. The sizes will vary based on supplies used and other factors.
General Direction:
Using the Lacy Doily–
Unlike most crochet patterns, this pattern has no gauge, no thread requirement and no hook sizes.
That's because you can vary the size and appearance of each motif to fit the needs of your project. If the motif is for a bedspread, you could choose size 5 cotton thread and an appropriate hook, the same motif could be made with size 10 cotton thread and a similar hook for a doily.
When choosing the thread and hook for your project experiment with a variety of threads to achieve the appearance and texture that pleases you.
Crochet Abbreviations Used in the Royal Motif
Slip Stitch= sl st
Sk = skip
Single Crochet= sc
Chain = ch
Double Crochet = dc
Treble Crochet = trc
Double Treble Crochet = dtrc
Picot = pc
To know more about the various crochet abbreviations click the below link:
http://www.avyastore.com/the-guide-crochet-abbreviations/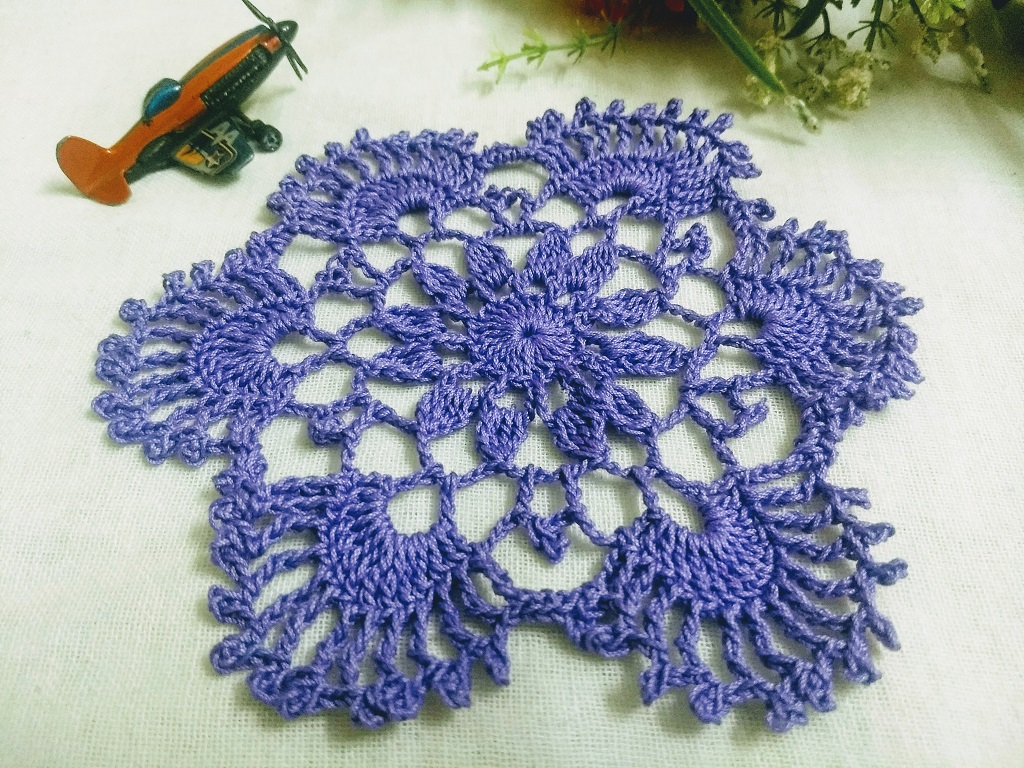 Details Instructions for the Irish Touch Motif:
Make a Magic Ring.
Round 1
In the magic ring, work 24 dc (3 ch count as 1st dc), close with sl st in top st of ch-3.
Round 2
Ch 1, then, beginning in same sp as sl st closing rnd 1, work * 1sc, 6 ch, sk 1 dc, rep from * around; close with 3 ch, 1 dc in 1st sc.
Round 3
In each ch 1p work 1 puff st (= 4 tc; 4 ch count as 1st trc). 7 ch; close with sl st in 1st puff.
Round 4
2 sl st in 1st ch 1p, then work * 1 dc, 6 ch, 1 dc in same ch 1p as last dc, 6 ch in next ch 1p work 1 dc, 7 ch., 1 sl st in 3rd st of ch-7 (P formed), 2 ch, 1 dc in same ch 1 p as last  dc., 6 ch, beg with next ch1p rep from * around; close with 3 ch, 1 dc in top st of ch-3 (which counted as 1st dc).
Round 5
Ch1, work 1 sc in last ch 1p, in next ch work 2 dc, 8 trc, 2 dc, in next ch 1p 1 sc, 12 ch, sk picoted ch sk picoted ch 1p, beg with next ch 1p rep from * around; close with 6 ch 1 dtrc in 1st sc.
Round 6
Ch 1, then work * 1sc, 1 p (= 4 ch, 1 sl st of ch-4), 2sc in last ch 1p, 1 ch, 1 trc, 1 ch,(1 trc, 4 ch, 1 sl st in top of trc, 1 ch) 10 times, cont with 1 tc, 1 ch, 2 sc in next ch 1p, rep from *around; close wth sl st in 1st sc
Fasten Off
What Can You Do With Dainty Doily?
Use it as a center piece.
Make 7 numbers of the motif and join to make a fancy market bag.
Multiple motifs can be converted to table liner.
Make use of thinner yarn and convert the pattern to make pretty establishment.
For single size spread about 70 X 105 inches, make 292 motifs. For a double size spread about 88 X 105 inches, make 370 motifs.
A perfect Christmas Gift.
Use to decorate your pale cushion covers of pillow covers.
These are just a few ideas. We are sure you can dream up many others!