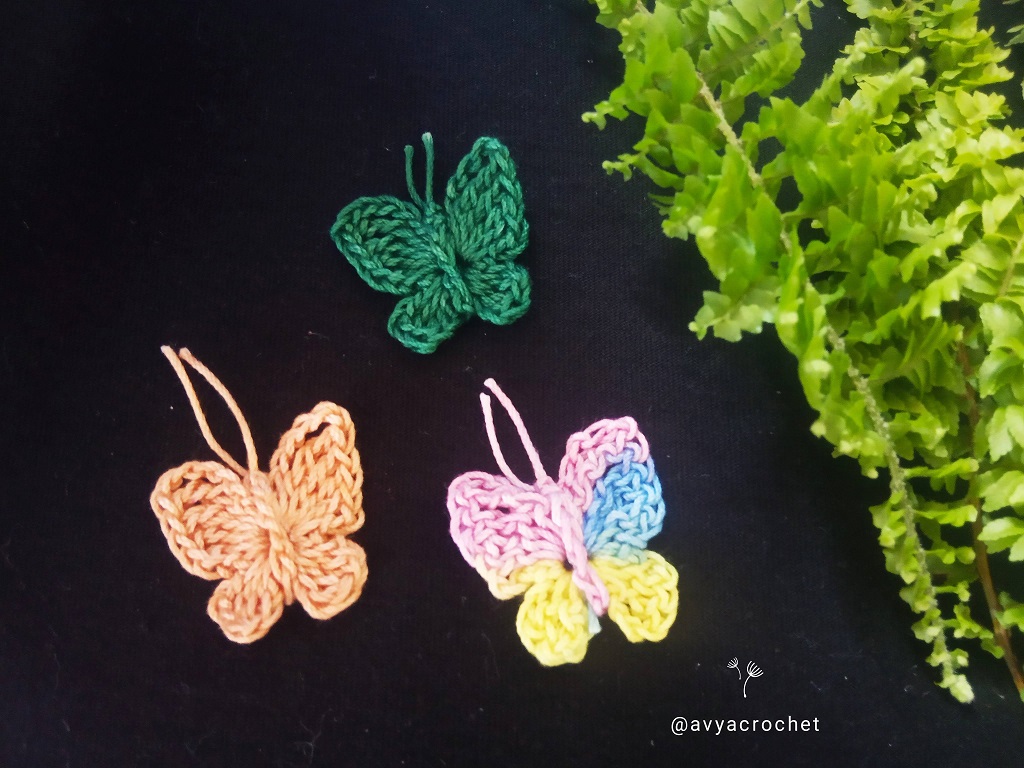 Butterfly a graceful and fluttering creature, so peaceful to see them in our gardens, tiny pretty and colorful flying all over. Butterflies are called nature's angles.  When I was a tiny girl my wish was to be butterfly, wished for those charming wings that would take me high in the sky. Walking down the streets and seeing these petite insects thought of preserving them forever.
Today's pattern was an inspiration from the butterfly, I have made many and they will be preserved lifelong. Speaking about this butterfly pattern, it is so easy and any beginner can hook it in just few minutes. No rounds to remember, simple, basic stitches to consider.
The butterfly measures 1.0 inches, it can be smaller if one uses doily thread, and I have used 3ply crochet thread. This appliqué butterflies can be made using any yarn or stash thread as per wish, don't forget to use an appropriate hook for the same.
Materials list required for the Applique Butterfly.
Yarn or Crochet Thread: Cotton Merchandised Thread, 3ply
For this pattern, we have used 1.5mm crochet steel hook.
Scissors
General Instruction.
Learn more about Gauge, blocking, etc
.http://www.avyastore.com/complete-guide-to-crochet-abbreviations-terms/
Stitch guide and Special stitch instructions
MC = Magic Circle
sl st = Slip Stitch
ch = Chain
sc = single crochet
dc = Double Crochet
tr= Treble Crochet
dtr = Double Treble Crochet
Click the link below and read more about crochet abbreviations
http://www.avyastore.com/the-guide-crochet-abbreviations/
Instruction for making the Applique Butterfly
Start with Magic Circle (MC)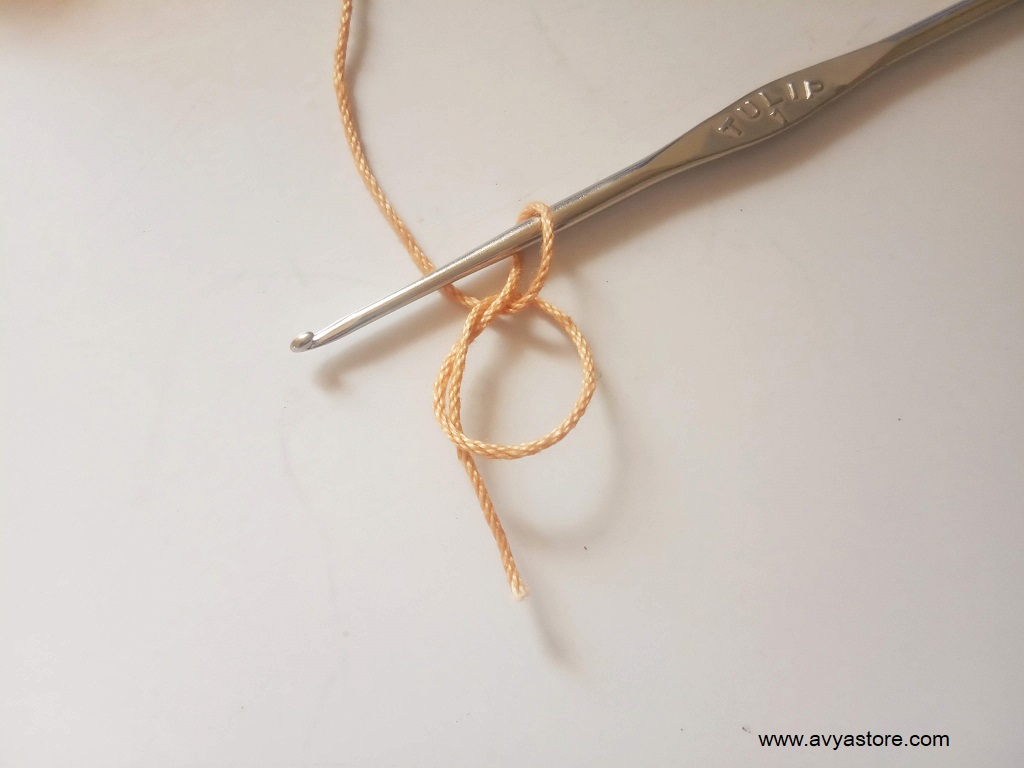 Right Side Wing
In the MC – ch 3, 1tr, 1dc, ch2,sl st,1 sc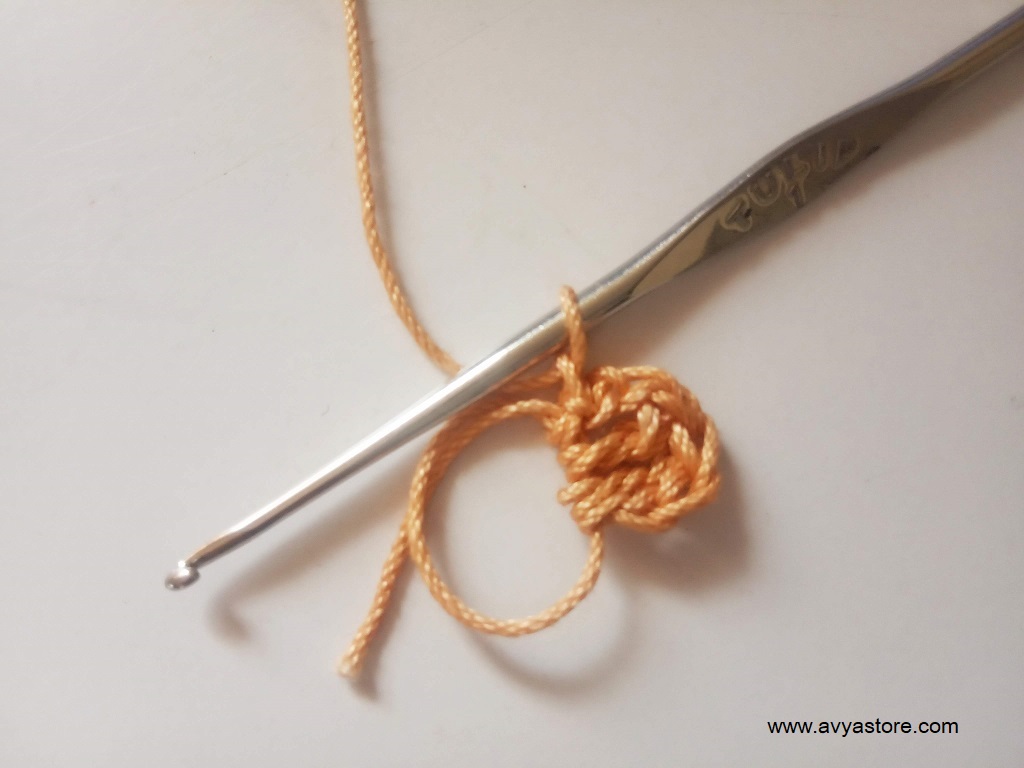 In the MC – ch 2, 1 dc. 2 tr, 1 dtr, ch 6, sl st, 1 sc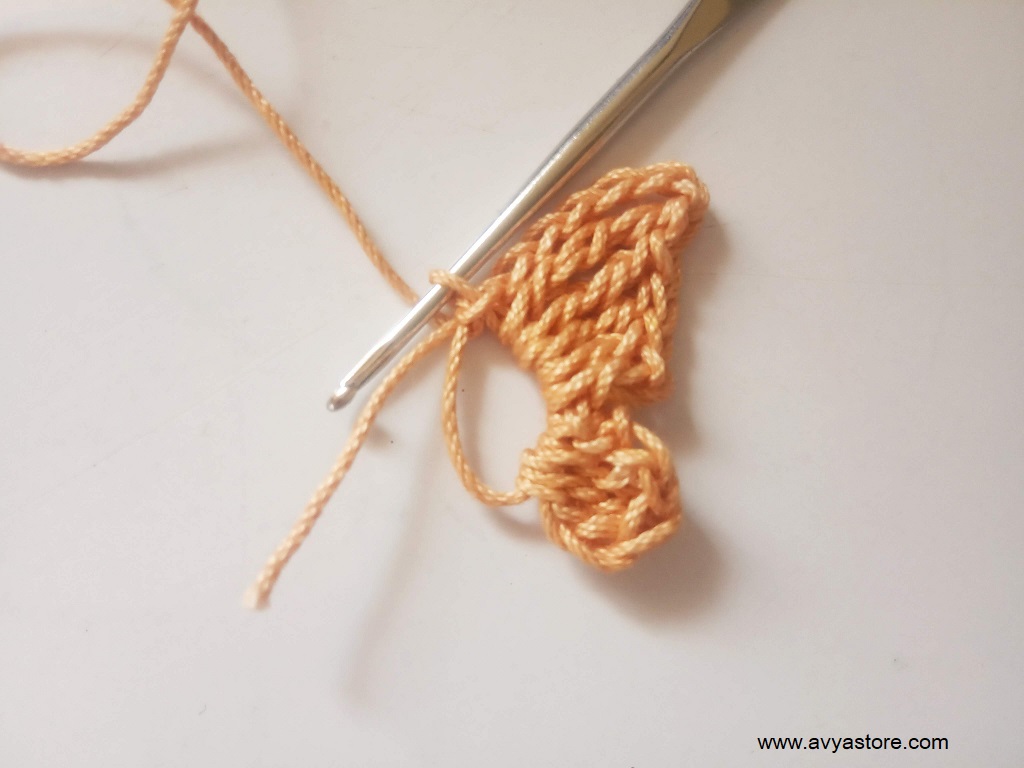 Left Side Wing
In the MC – ch 6,1 dtr, 2 tr, 1 dc, ch 2, sl st, 1 sc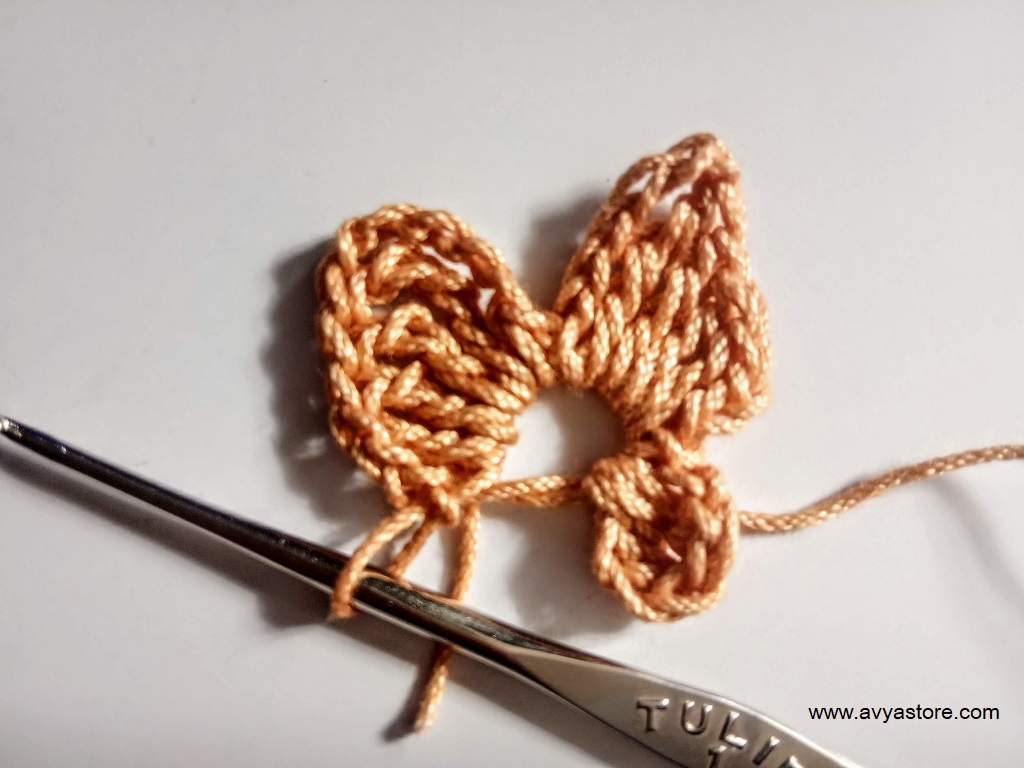 In the MC – ch 2, 1 dc, 1 tr, ch 3, sl st, 1 sc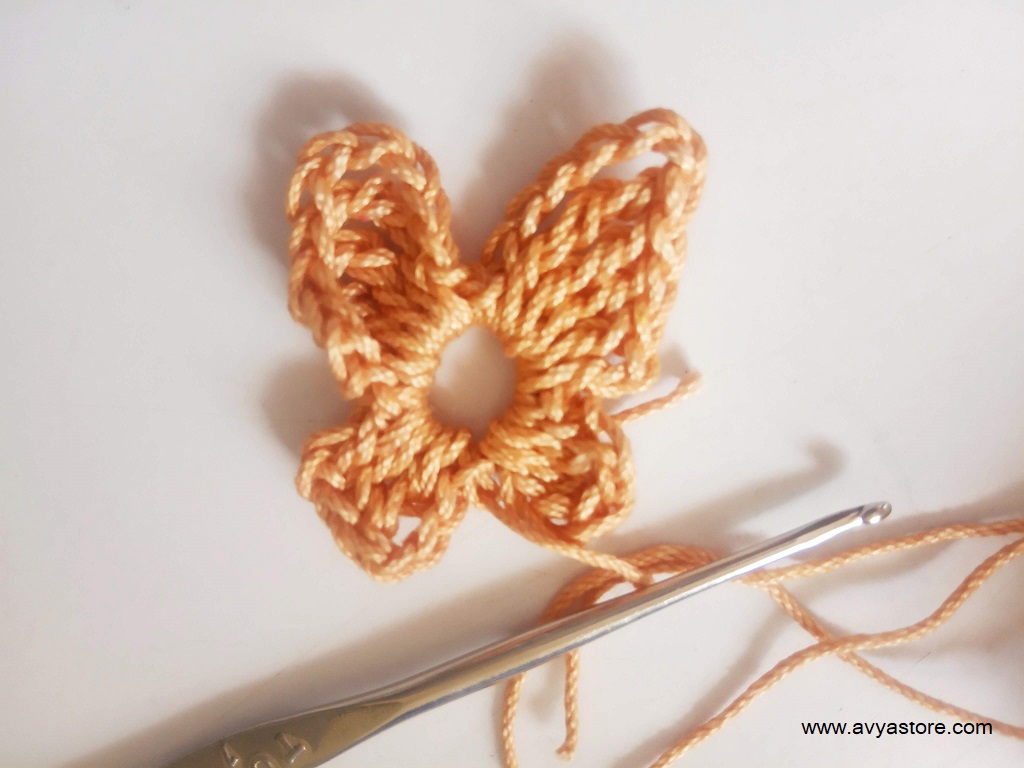 Pull the ends
For the center, ch 10, tie around with a tight knot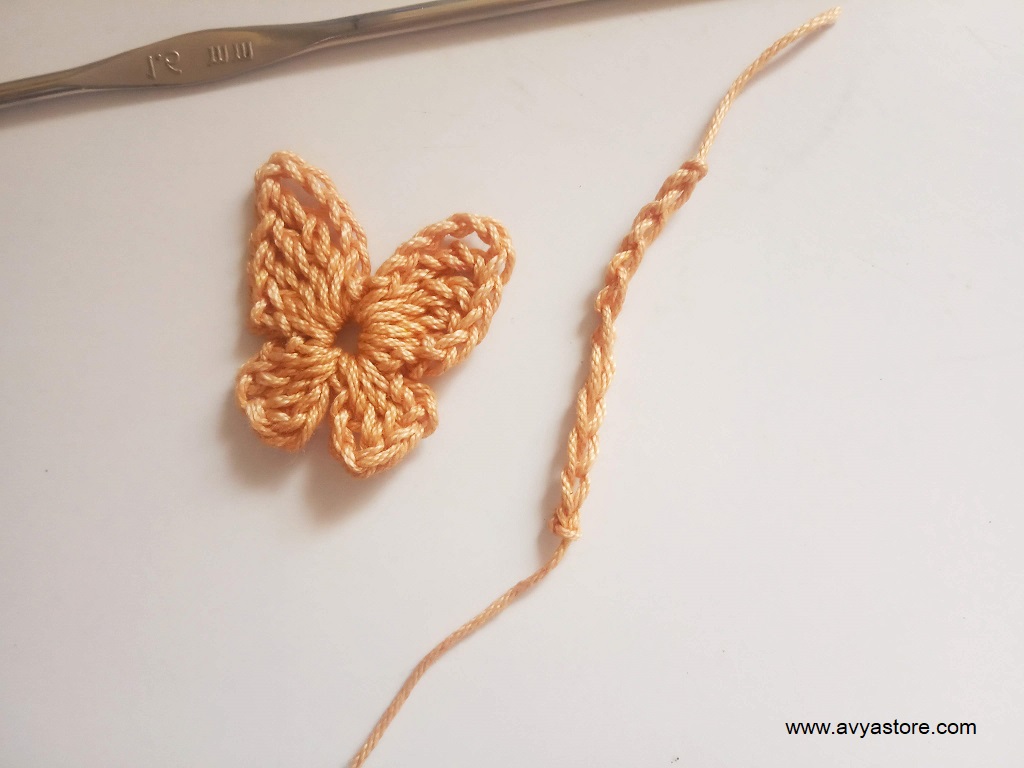 Suggesting a few ideas for using the Applique Butterfly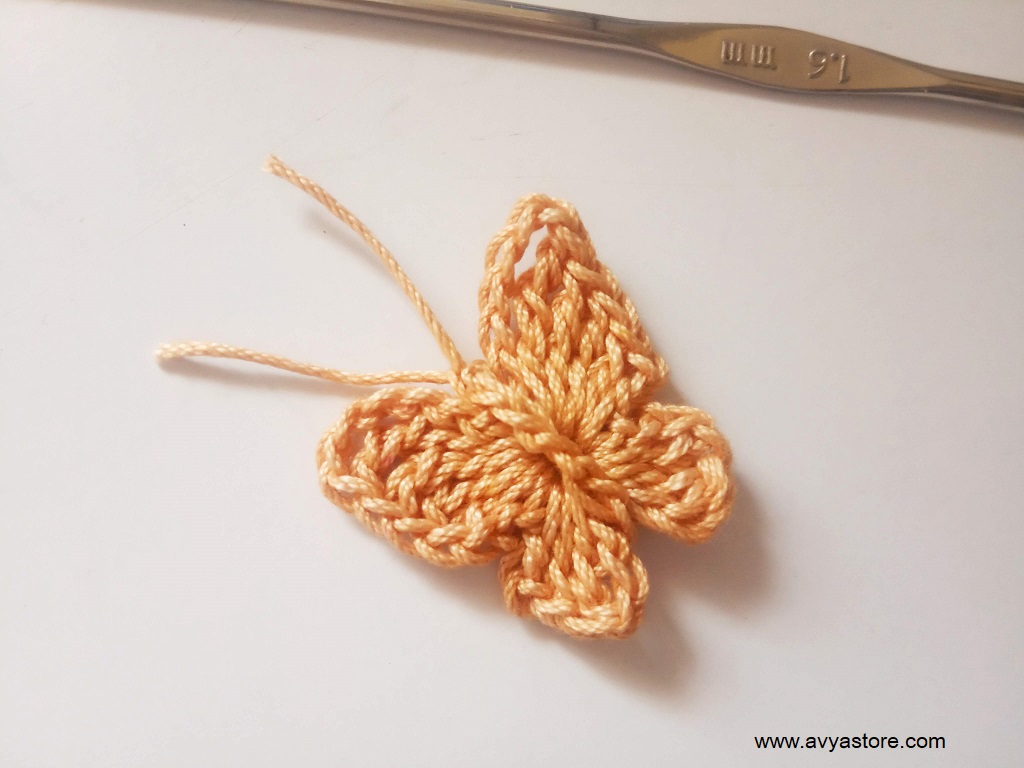 Decorate gift tags, gift toppers, scrapbooks, craft journals with these cute butterflies along with some crochet flowers.
Want some quick gifts for your close friend, then these appliqué butterflies can be put to use in form or bag charms, earrings, key chains, etc.
We love decorating our toddlers and small kids items, and these butterflies are very handy, use them for decorating blankets, school bags, napkins, booties, hairpins, hair bands and the list is endless.
Also, decorate your paper boards buy sticking a magnet or board pin on one side of these handmade butterflies.
Below summarized instructions are for personnel use only.