Cineraria Granny Square crochet free pattern and instructions by Avyastore.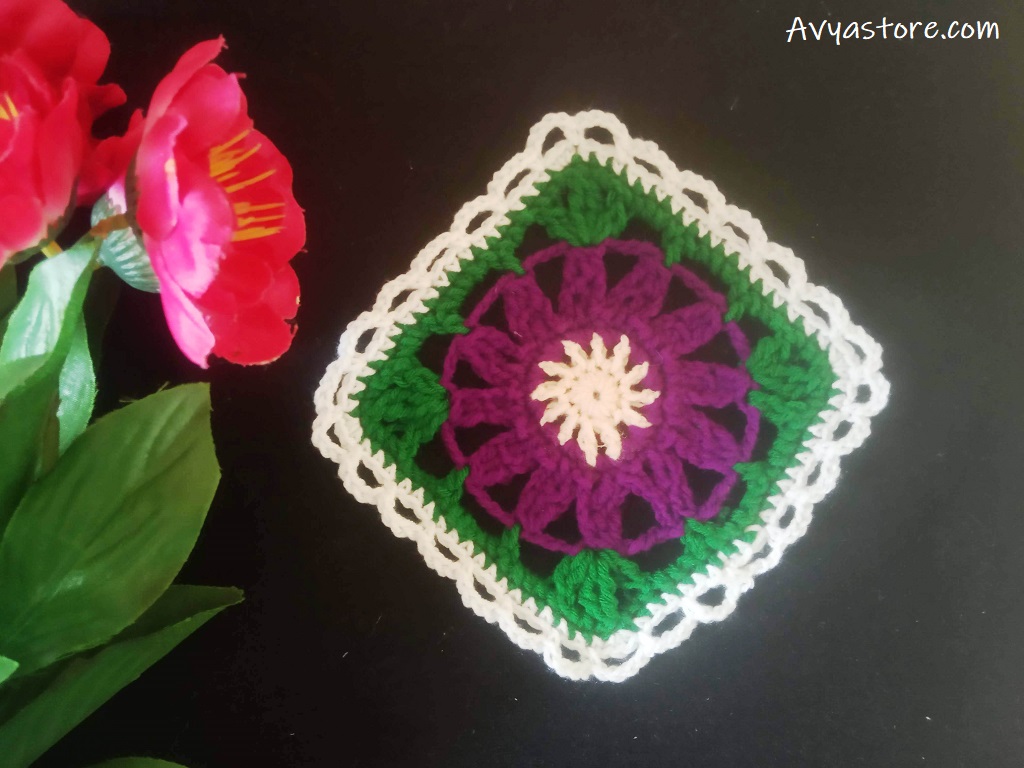 Cineraria is a beautiful flower in purple colour. From winter to the springs, it expresses the contrast between the beautiful purple and cream of the Fuke. A small srub clustering together. In Japan, the flower is written as fuukigiku and said to be a flower experiencing happy life.
Cineraria flowers are inspirations for today's pattern of the granny square. Design and colour combinations choice resembles closely to the original flower.
The pattern has two sections, one the flower and the other is the extension of the grammy square.
Materials and Equipment list required for making the Cineraria Granny Square.
Worsted yarn 2ply following colour shade
Cream
Dark Purple
Dark Green
White for the border.
3.25 mm Crochet Hook Size (aluminium crochet hook).
Scissors
Stitch guide and special stitch instructions for the Cineraria Granny Square.
sl st = Slip Stitch
sc = Single Crochet
ch = Chain
hdc = Half double crochet
dc = Double crochet
tr = Treble crochet
Dc2tog = double crochet 2 stitches together
Dc3tog = double crochet 3 stitches together
Tr2tog – treble crochet 2 stitches together.
Notes for the Cineraria Granny Square.
Intermediate skill level required.
The total number of rounds equals nine.
Sc made at the beginning of round 1, 2, 3 considered 1st sc for the round.
Ch3 made at the beginning of round 5 is the first Ch3 for the particular round.
** Repeat from here.
Instruction for making the Cineraria Granny Square.
Round 1 (Cream)
Magic Ring, 12 sc in the ring.
Round 2 (Cream)
12 sc separated with 2 ch, sl st to close the round.
Round 3 (Purple)
In the 2 ch space, 3 sc in each. Close the round with sl st.
Round 4 (Purple)
Above the 3 sc of the previous round *(3 ch, 1tr, 3 ch, sl st). Repeat * for rest of the round.
Round 5 (purple)
Ch3 along with 2dc form (Dc3tog), ch4 as space between the Dc3tog. Continue with (Dc3tog, ch4) for the rest of the round above the round 4. Total 12 numbers of Dc3tog end of the round.
Round 6 (Green)
Work in the Dc3tog of Round 5.
1 ch as turning chain, in the same stitch, make 1hdc. Ch4, 1 hdc,ch 3.
Working in the corner – (Dc2tog, ch 2, Tr2tog, ch 2, Dc2tog). Repeat for each corner.
Continue Ch 3, 1 hdc, Ch4, 1hdc, Ch 3. Repeat for other sides of the square.
Round 7 (Green)
1 sc in each of the stitch of the previous round.
For corner – In the corner stitch make 3 sc above the Tr2tog.
Round 8(White)
1 sc in each of the stitch of the round 6. Sl st to close.
Round 9 (White)
1 sc, ch 4, skip 2 sc of previous round, join with an sc.
Repeat to end the round.
Fasten off.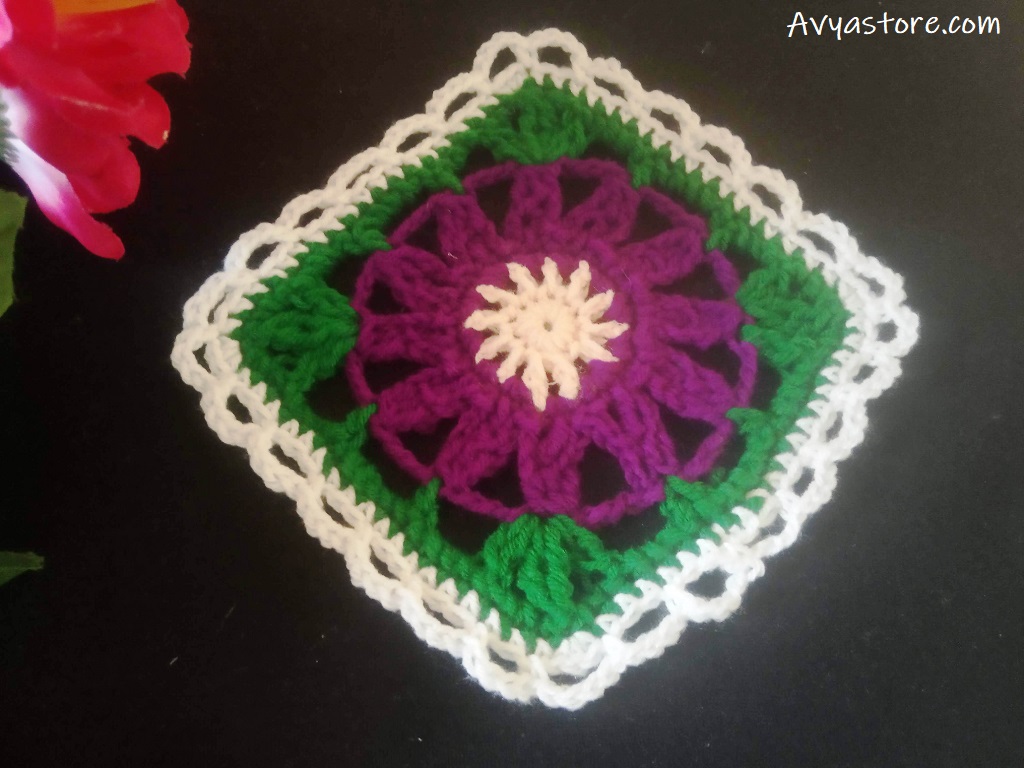 The pattern is perfect for making shopping bags. Make pretty pencil pouches for gifting. Make some large pullovers or afghans.
Like to make a granny square, read our similar post
How to Crochet a Plum Blossom Granny Square – Free Pattern
How to Crochet Acacia flowers Granny Square – Free Pattern