Laurentia flowers are star-shaped blooms; they grow in clusters with vibrant colours. The five-petal flower has striking looks and is eye-pleasing. These tiny flowers are the inspiration for today free pattern.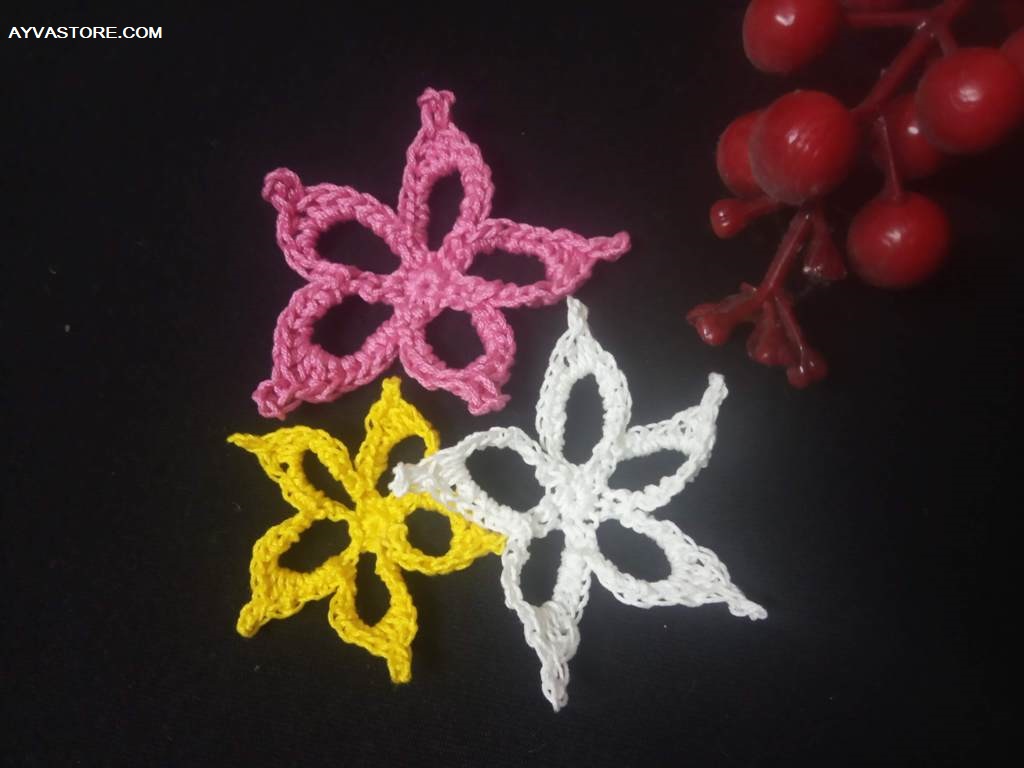 The Laurentia flower is simple, just in three rounds, the Laurentia flower is ready. The pattern is for beginners with little skill. Finner lace threads give the flowers a delicate look. The size of the flowers is 1.5 inches, varies on the thickness of yarn and hook size. Self colours give pretty look to the flowers.
Few tips – Use fine threads that are cotton. Upscale the look of the crochet Laurentia flowers with beads, gems or pearls.
Materials list 
Cotton Merchandised 2ply or lace Doily 
 Use I.00 mm steel crochet hook.
 Scissors
 Tapestry needle for weaving in ends.
For demonstration purpose, I have to use 3ply cotton thread and 1.6mm crochet steel hook.
General Instruction
Stitch guide and Special stitch instructions
sl st = Slip Stitch
sc = single crochet
ch = Chain
hdc = Half Double Crochet
dc = Double Crochet
Picot = Chain 3 from the point where the picot stitch is required, Insert the hook in the third chain away from the hook, sl st to form the picot.
Read our blog post on various crochet abbreviations, click below link:
http://www.avyastore.com/the-guide-crochet-abbreviations/

Instruction for making the Laurentia Flower
Start the round making a magic ring
Round 1 –

In the magic circle start with sc1 as the turning chain (consider it as the 1st sc). Make another sc9, close with an sl st.
Round 2 –

To begin the round sc1, ch10, sc in the next sc of the round 1. Repeat (sc1, ch10, sc) End of the Round you get five petals of ch10.
Round 3 –

In each of the ch10 (sl st, sc4, hdc1, dc1, picot, dc1, hdc1, sc4, sl st). Repeat the stitches for remaining four ch10 of round 2.
Pull the yarn tightly to close the magic ring. Weave the loose ends with a needle.
Use the Laurentia Flower for the following:
Put the flowers in jewellery use, headbands, hairclips, earning the list is long. 
Decorate your kid's blankets, sweaters, caps with the Laurentia flower establishments.
Attach to a keychain or use as bag charms.
The below tutorial summary is of personal use only.