Spiral crochet patterns look great and are eye-pleasing. Crocheting a spiral motif is not dissimilar from any other regular dollies, it is fun making and has a unique style impact. You merely do not see things worked in spiral crochet, one can say it is unseen, thus it feels exciting to examine them — particularly good colour selections add extra illusions to play with the attention.
These spiral crochet motifs can add a new look to your scrapbook, crafts, journals, etc. One can catch their dreams by using these motifs as dream catchers. Few ideas from our side, you can dream of many.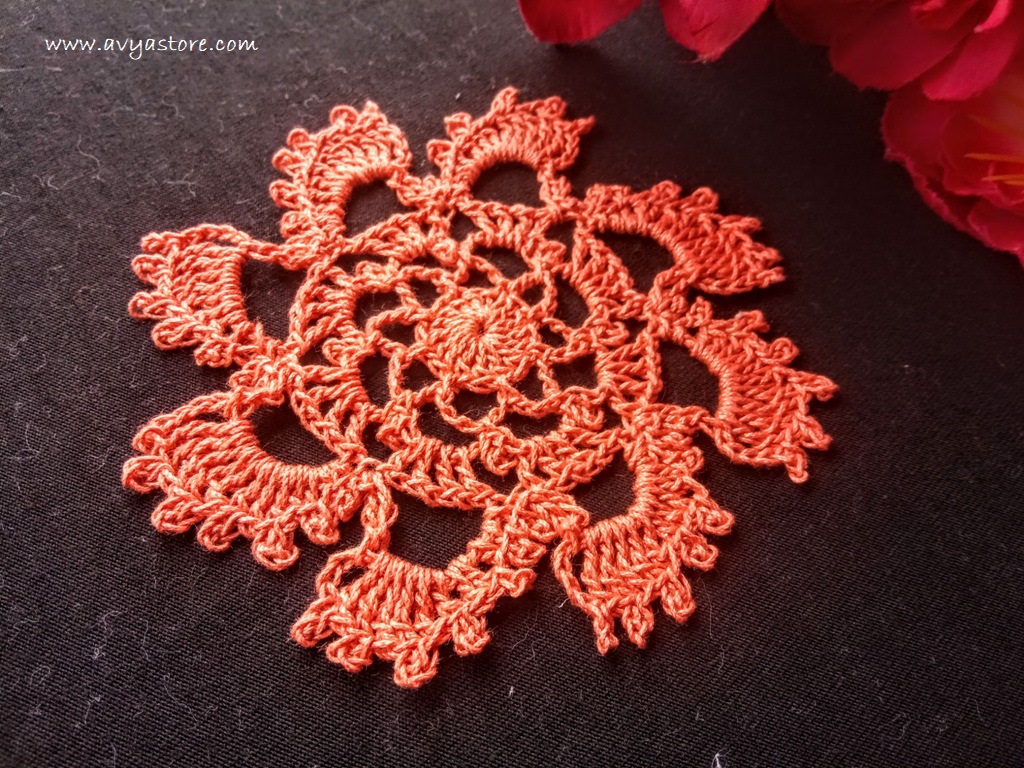 Skill level
Skill level required is intermediate
Size or measurements of the finished item.
3 inches, will differ on the use of thread supply.
Materials list required for the spiral motif.
Yarn or Crochet Thread: Cotton Merchandised Size 10 Tread
Crochet Hook Size:  we used a size I.25 mm steel crochet hook.
Tapestry needle for weaving in ends.
General Instruction.
Learn more about Gauge, blocking, etc.
http://www.avyastore.com/the-crocheters-guide-to-general-instructions-few-tips/
Stitch guide and Special stitch instructions
sl st = Slip Stitch
sc = Single Crochet
ch = Chain
hdc = Half double crochet
dc = Double Crochet
tr = Treble Crochet
QuadTr =Quadruple Treble
Get more information on crochet abbreviations, click below link:
http://www.avyastore.com/the-guide-crochet-abbreviations/
Notes about the pattern
Picot (Pc) = Chain 3, slip stitch to third chain from hook.
Instruction for making the Crochet Spiral Motif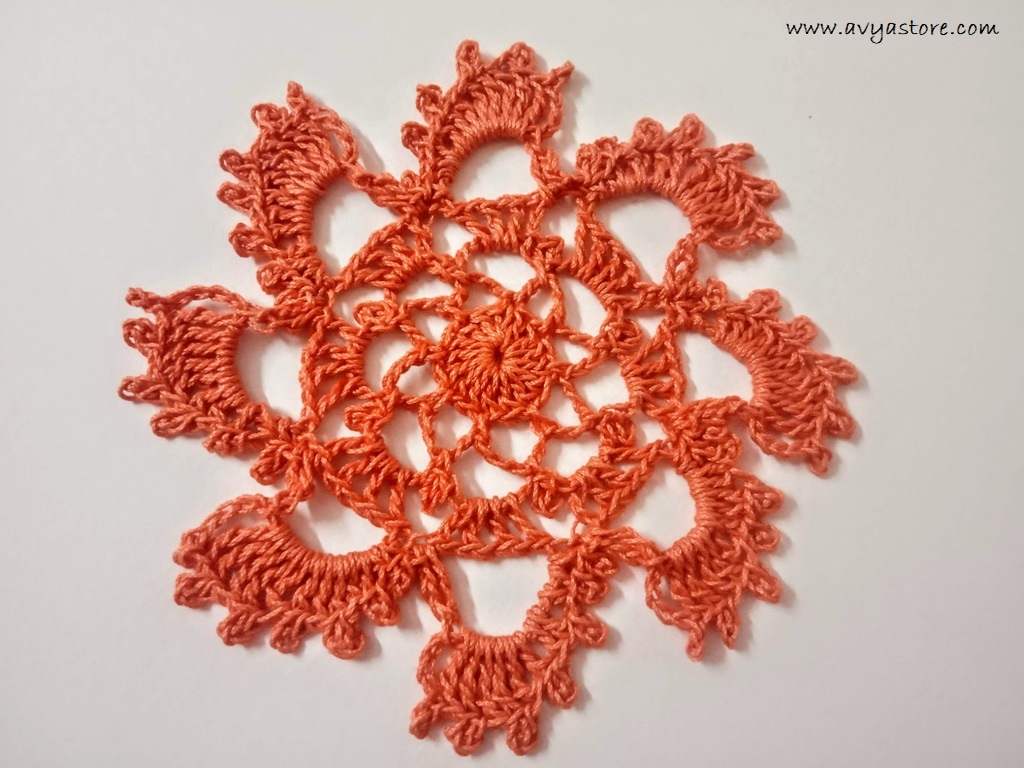 Round 1
Start with an adjustable ring or a magic circle (Pic 1); Ch3 (Pic 2) 15 dc in the ring (Pic 3 & 4)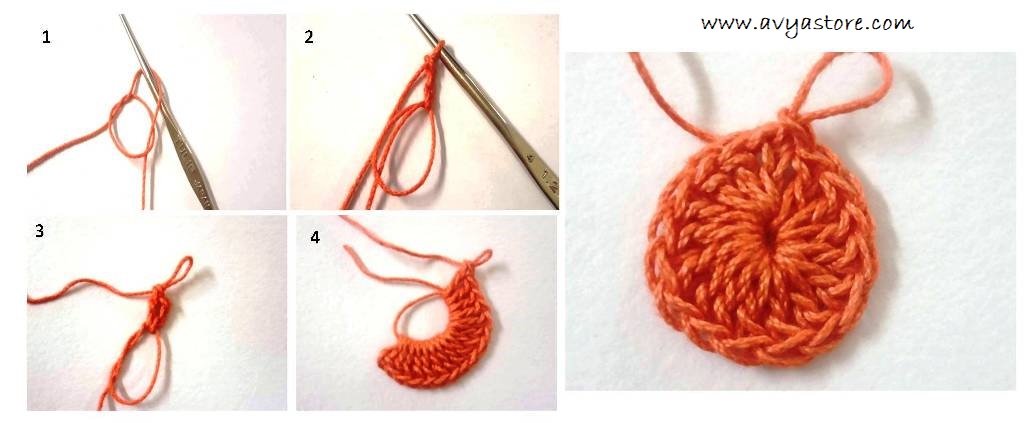 Round 2
Ch 5 (Pic 1); skip 1 dc inset in the next dc with 1 sc (Pic 2) (Ch 5, skip 1 dc, join with 1sc) repeat 5 times (Pic 3 )for closing the round Ch 2, join to the beginning with 1 dc (Pic 4)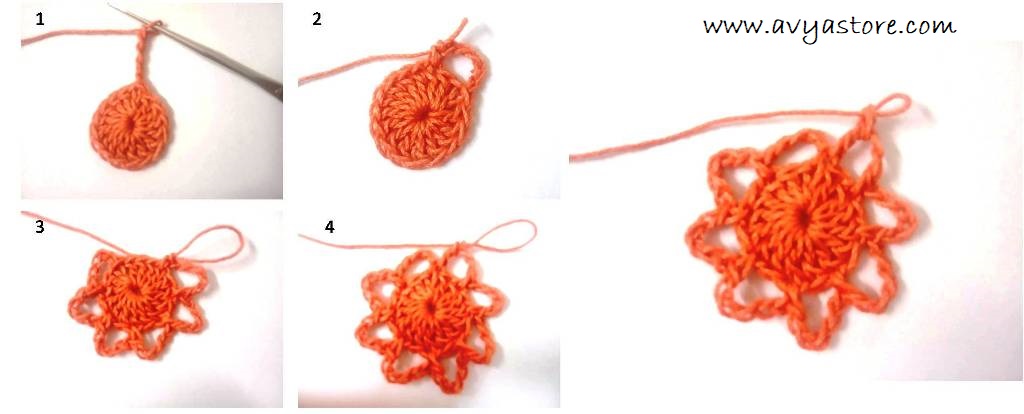 Round 3
1 sc (Pic 1), picot (Pic 2) Ch 5,sl st in the 5ch of Round 2 with 1sc (Pic 3) Repeat 7 times (1sc, Picot, Ch 5) to complete the round) (Pic 4)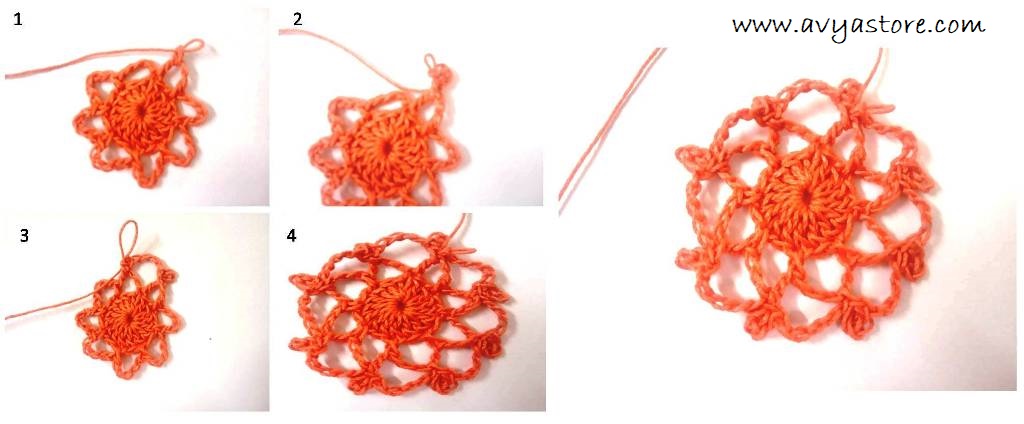 Round 4
Sl st through the Picot of Round 3 at the beginning of the Chain 5 start the Round with Ch 4 (Pic 1), 1dc, Ch1.1dc, Ch1, 1dc, Ch2 (Pic 2).In next chain 5 * (1dc, Ch1,1dc, Ch1.1dc, Ch1, 1dc, Ch2) (Pic 3). Repeat from * to complete the round (Pic 4).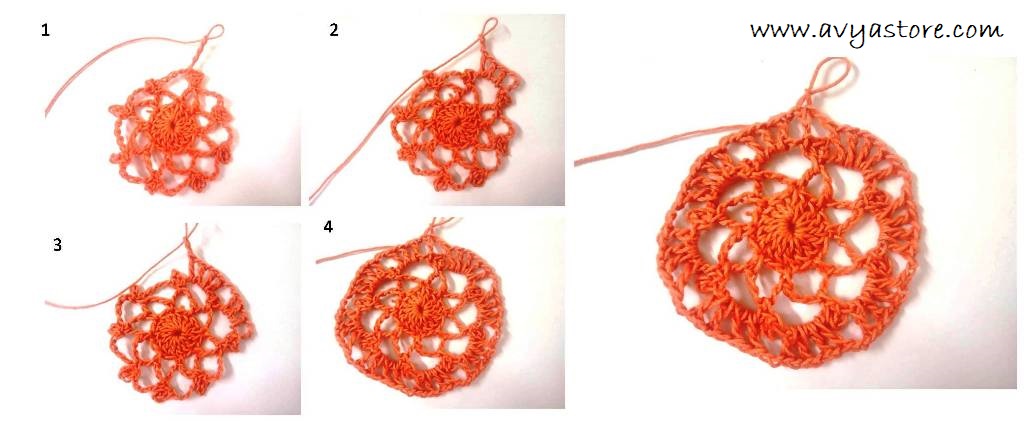 Round 5
Ch 3, (Pic 1) in same space 1 dc (Pic 2),  * 1 QuadTr (Pic 3) sl st in the 2 chain space (Pic 4) Ch4 (Pic 5), 1 Picot (Pic 6) 2 tr, 1 Picot, 2 tr, 1 Picot, 1 tr, 1dc.1picot, 2dc,1 Picot, 2 hdc, 1Picot, 1 sc, sl st in the 2 chain space (Pic 9) i.e. in the beginning of the QuadTr. In the next ch of 2chain space Ch 3,1 dc and Repeat *  (Pic 10 & 11).
Fasten Off using a Tapestry needle.
Finishing touch to the Spiral Motif
Hairspray: Gently spray on the motif with hair spray and shape it on a board or flat surface. Use rust free pins to stretch the motif, let dry naturally. This is not a permanent method, gives a semi-hard finish.
Glue and water- Most available product in our craft essentials. Mix equal quantity of glue and water together. Place your motif or Dollie on a flat surface with the help of a brush spread the mixture evenly. Shape it as desired. This method gives a permanent finish.
Readymade starch – Available readily in the market in the form of a powder of liquid, an easy way to stiffen crochet. Read the packet instruction accordingly for best results.
Sugar and Water – One of the oldest methods. Use equal portions of sugar and water, boil it till the sugar melts. Let it cool, dip the Dollie or motif and gently remove and drain the excess syrup. Lay it on a flat surface, use pins to stretch and let dry completely.
Feel free to use the pattern, request not to copy-paste the photos or directions mentioned, can be used for personal use, give us credit in case of sharing.