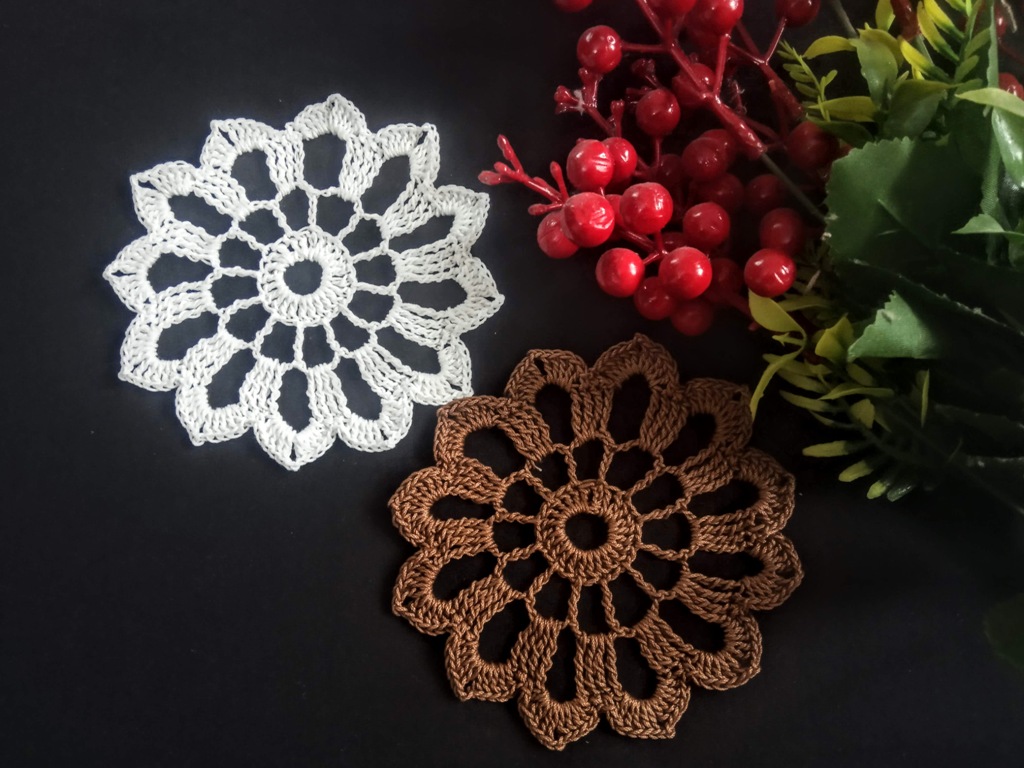 Most commonly seen lying on our tea or dining table, any guess yes you are thinking rightly it is a coaster, Most of us put them to use and are commonly available in any supermarket or home décor store. These coasters are made of wood, plastic, etc; but I prefer making them at home and also giving these handmade coasters to my friends or neighbors.
There are so many options and patterns available and most are easy, simple and quick on hook. As I am a big fan of lace motif thought of making and sharing this pretty coaster pattern. The pattern is worked in rounds; there are only four rows to hook. The coaster size is 5 inches, but will depend on the thread or yarn use also the hook size will vary. I have used cotton knitting thread but if you like wool this pattern will work fine.
I prefer self colours but colour variations can give some fresh look to the coasters. To get good grip and steadiness I recommend using 3 ply or 4 ply thread. This pattern is for the intermediate skill level.   
Materials list required for making the Coasters
Cotton Merchandised Thread 3ply
Hook size 1.6 mm, steel hook, I use Tulip brand
Scissors
Tapestry needle for weaving in ends.
General Instruction.
Learn more about Gauge, blocking, etc.
http://www.avyastore.com/the-crocheters-guide-to-general-instructions-few-tips/
Stitch guide and Special stitch instructions
sl st = Slip Stitch
sc = Single Crochet
ch = Chain
dc = Double Crochet
tr = Treble Crochet
dtr = Double Treble Crochet
Below link give some more information on crochet abbreviations
http://www.avyastore.com/the-guide-crochet-abbreviations/
Instruction for making the Crochet Coasters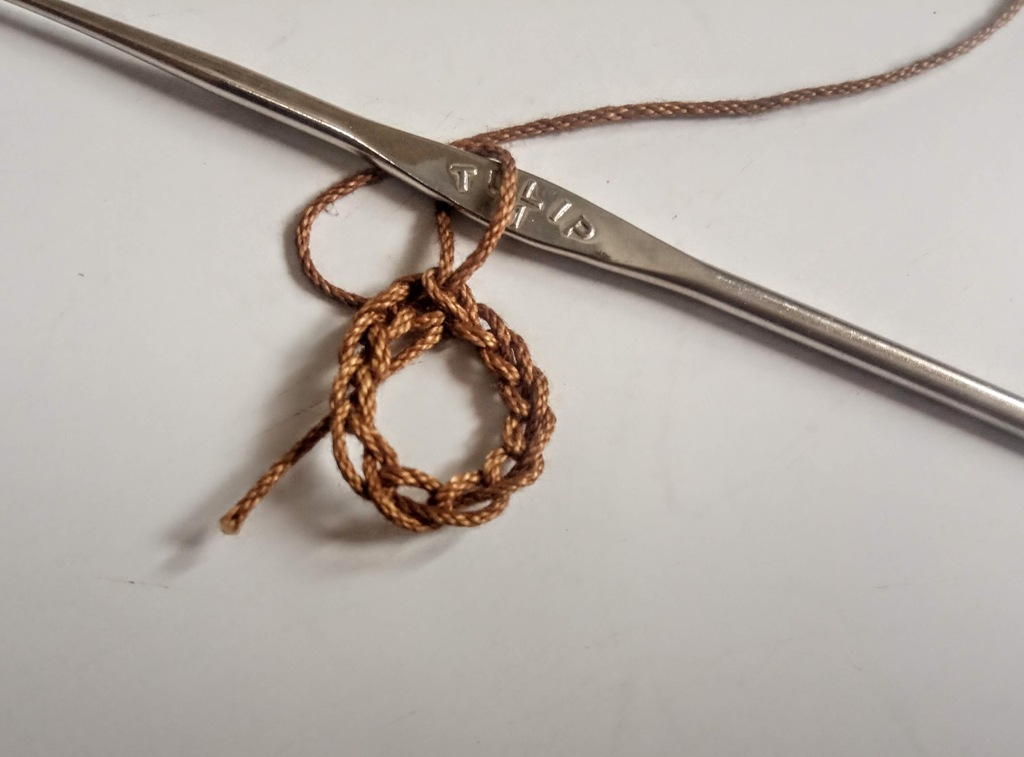 Start making a simple chain of 6, sl st to form a circle.
Round 1
Chain 3 to start and consider as dc, 23 dc in the circle, sl st at the top of the chain 3 to close the round.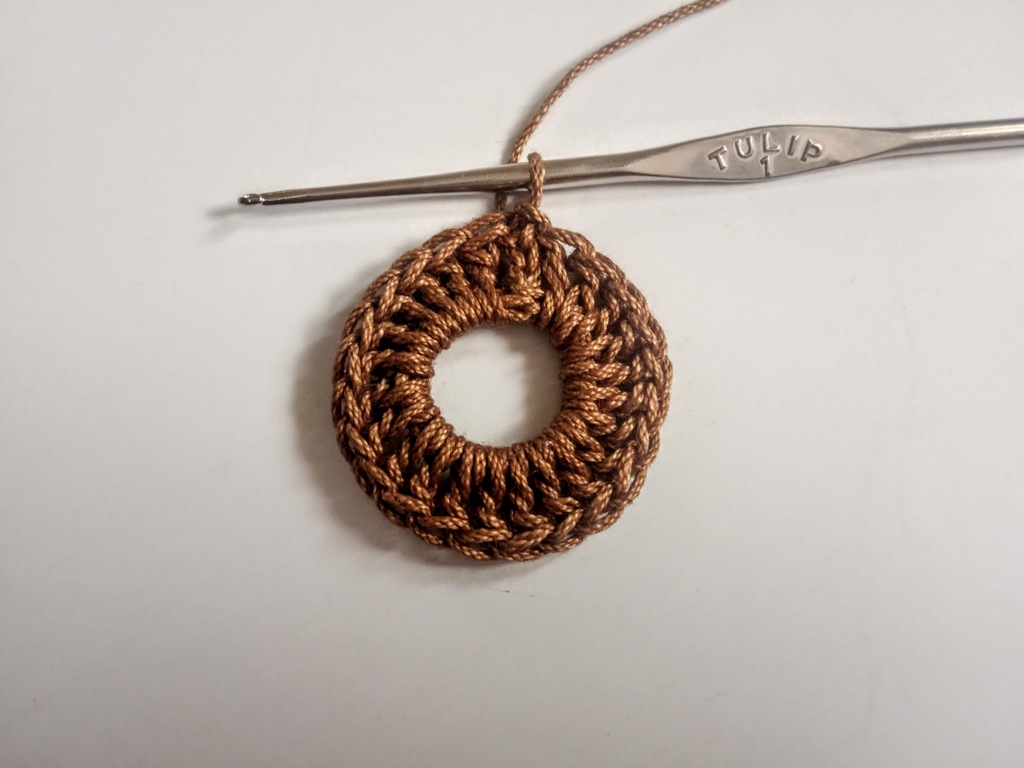 Round 2
Ch 4 consider as a tr, ch 5 in the second dc (of round 1) away from the hook, ch 5. Repeat
At the end of the round there will be 12 tr and 12 chain 5 spaces.

Round 3
Sl st in 2 ch to reach the centre of the ch 5 space. Ch 5 (consider as dtr) 3 dtr, ch 5, continue 4 dtr in the next ch 5 space of previous round. In the end, there will be 12 clusters separated by 12 chains 5 spaces

Round 4
Skip 1 dtr of the Round 3, 2 sc, 5 dc – 2 ch – 5 dc (forms like a petal). Repeat in each of the 5ch space.

Cut the loose ends of the yarn and weave the ends with the Tapestry needle.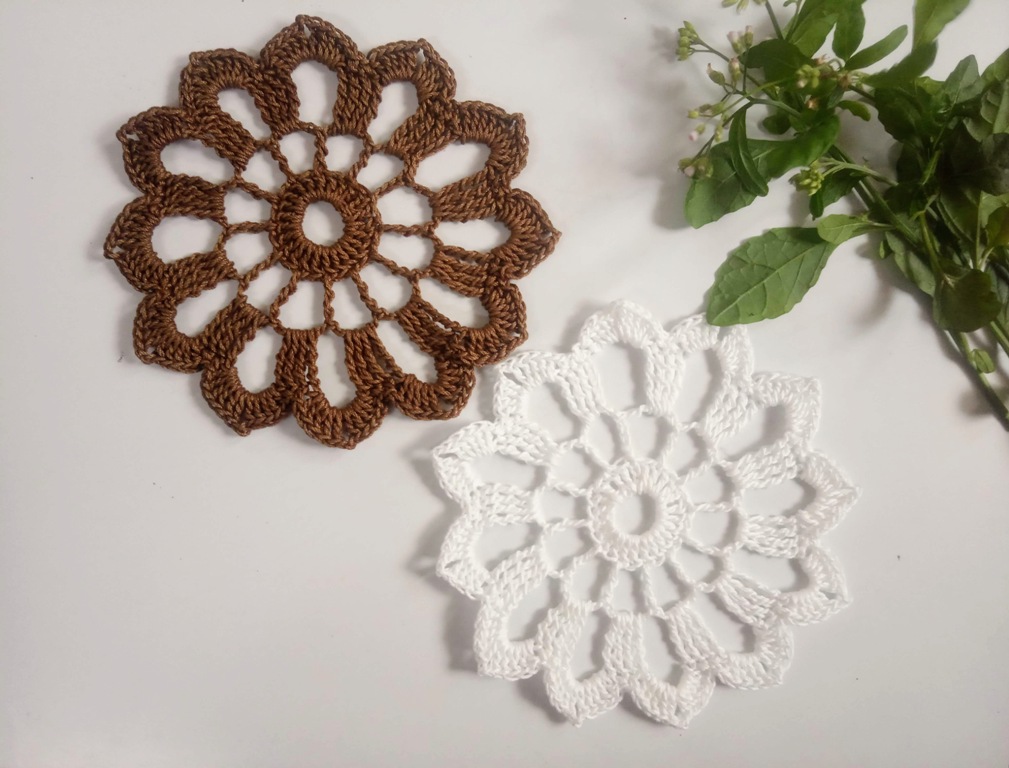 How to give a perfect finishing touch to the coaster
Method 1 = use a hairspray, on a blocking table lay the coaster, in each of the petal add an pin that is rust proof and spray the hairspray.
Method 2 =  Simple ironing, yes you heard me right, place the coaster on the ironing board, spray some water, cover the coaster with a cloth and press the hot iron on the coaster gently. This is a temporary method.
Method 3 = Rice water, When we are cooking rice in a pan, after the rice is cooked, drain the water in a container let it cool for some time and place the coaster for 10 minutes remove and sundry.
Use the Pattern for other home decors.
Using the Doily thread make 12 number of these motifs, join them and a beautiful table runner is ready.
Take a Finer thread, add some beads to each petal of the motif and an elegant jar cover is ready.
Use to make banners for wall decoration.
This pattern is for personal use only, do not copy paste or repost the pictures, in case you like to share the post or pictures do give our blog the credit.