Flower Applique – Free Crochet Pattern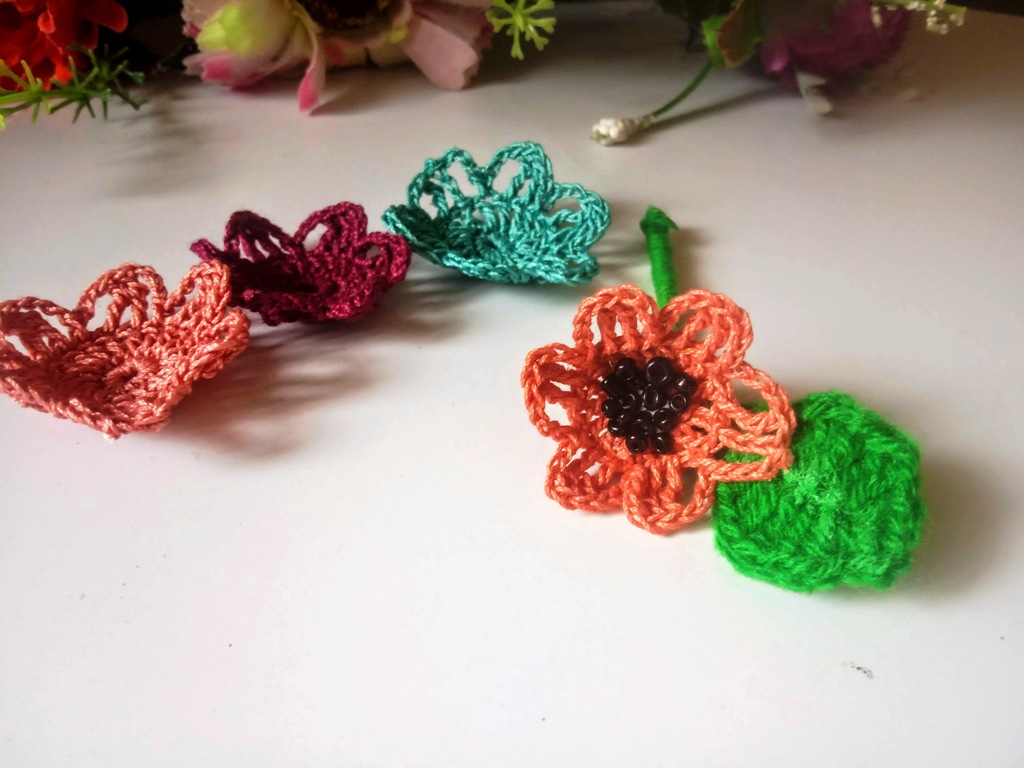 Flower Applique – Instruction and Free Pattern by Avyastore.
Are you looking for something short and sweet? Want to make something handcrafted? The answer is the free pattern below.
A gorgeous flower applique, the pattern is simple, you will like to make many as the flower takes maximum 5 minutes, yes you read right.
The flower has six lose delicate petals, perfect for jewellery designs.
Give extra pop to the flower by adding pearls, beads, sequences or a fancy button.
To get the perfect applique look, use finner hooks, and threads. The flower made with this pattern is 2.5 cm. The flower applique has three rounds. No special stitches required the flower pattern is for beginners.
In the process of my micro flowers, I made these elegant applique flowers. I am sharing a tip for making a brooch add a copper wire along with a leaf of your choice, handmade or artificial, further, add pearls or beads in the centre and finally a pin to the stem, perfect way to flaunt for this season.
Materials list required for making the Flower Applique
Cotton threads any colour #20
Steel Hook size 0.95 mm
Scissors
Tapestry needle for weaving in ends.
Get some tips on Gauge, blocking, etc. click the below link
http://www.avyastore.com/the-crocheters-guide-to-general-instructions-few-tips/
Stitch guide and Special stitch instructions
sl st = Slip Stitch
sc = Single Crochet
ch = Chain
dc = Double Crochet
tr = Treble Crochet
* = Repeat the instructions from this point
Instruction for making the Flower Applique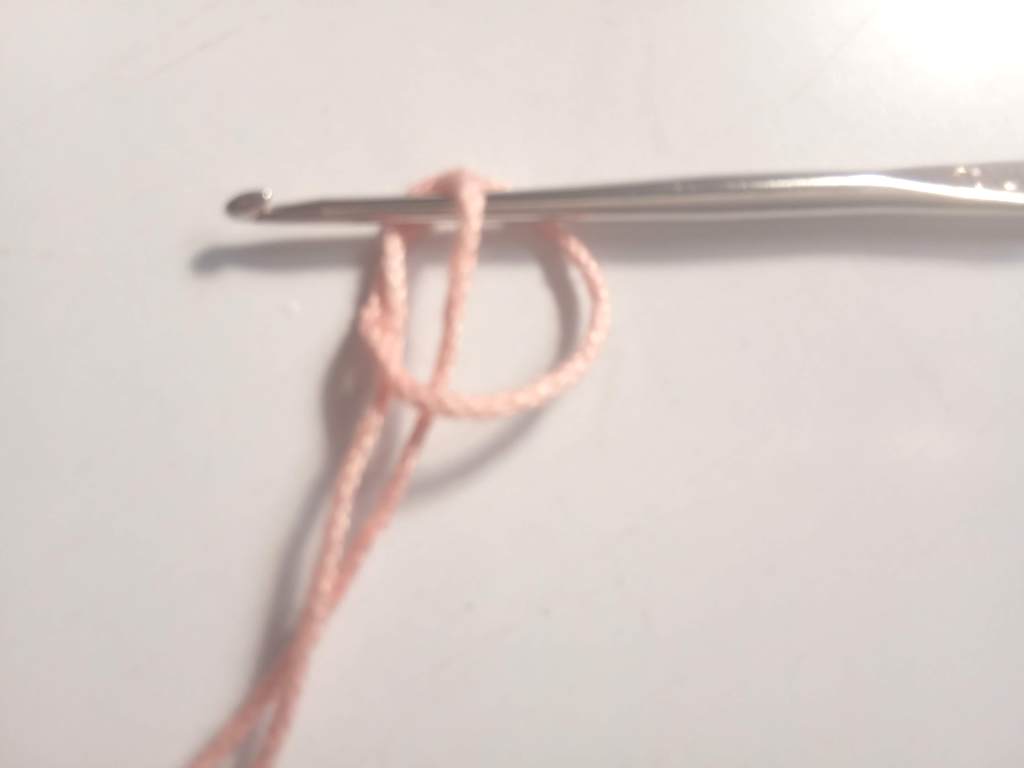 Make an adjustable magic ring.
Round 1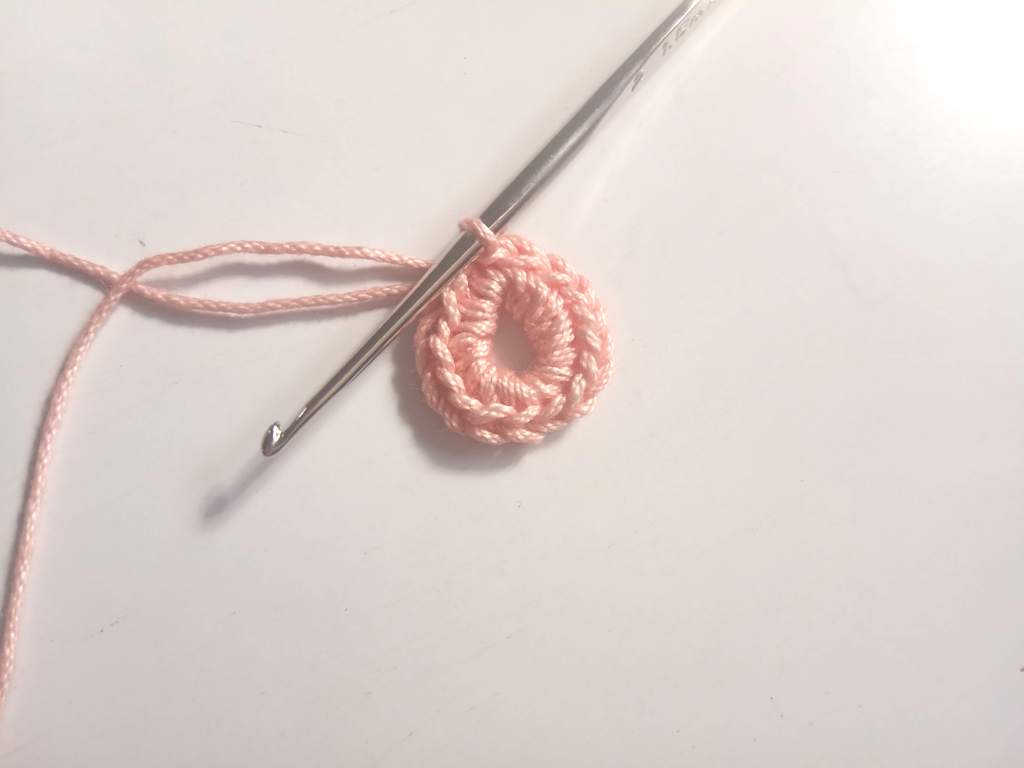 Start with a ch1 as turning chain; consider the ch1 as a working sc.
In the ring make sc19, close with an sl st.
End of the Round there will be sc20.
Round 2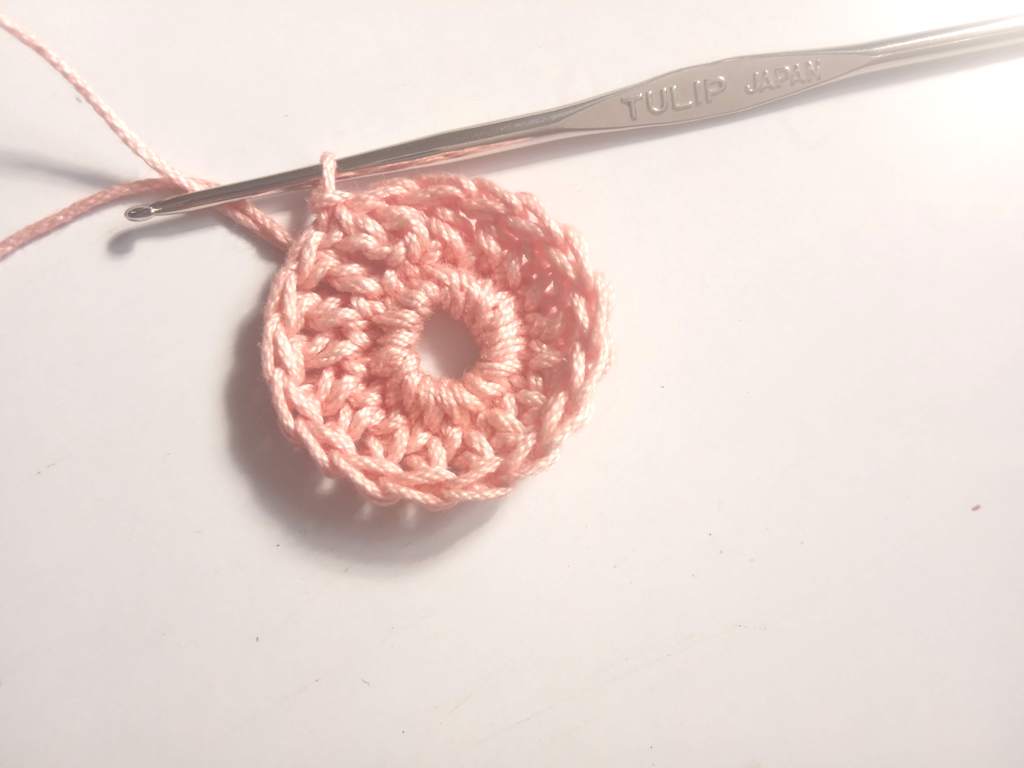 Start with a ch2 as turning chain; consider as the first dc.
Continue with dc1 in each of the sc of the previous Round 1. Sl st to close.
End of the Round there will be dc20.
 Round 3
Start with a ch4 as turning chain; consider as tr
Continue with *(tr1, ch3, sc1, ch3, tr1) in each of the dc of the previous Round 2.
Repeat *(tr1, ch3, sc1, ch3, tr1) for 5 times, sl st to close.
End of this round there will be six petals.
With the help of a scissor cut the working yarn and using the needle weave the loose ends.
 Blocking the Flower Applique
For blocking the flower
In a bowl add 1 tbsp of water and 1 tbsp of white glue, mix well to form a solution.
Dip the flowers and hold for a minute.
Keep the flowers for sun-drying.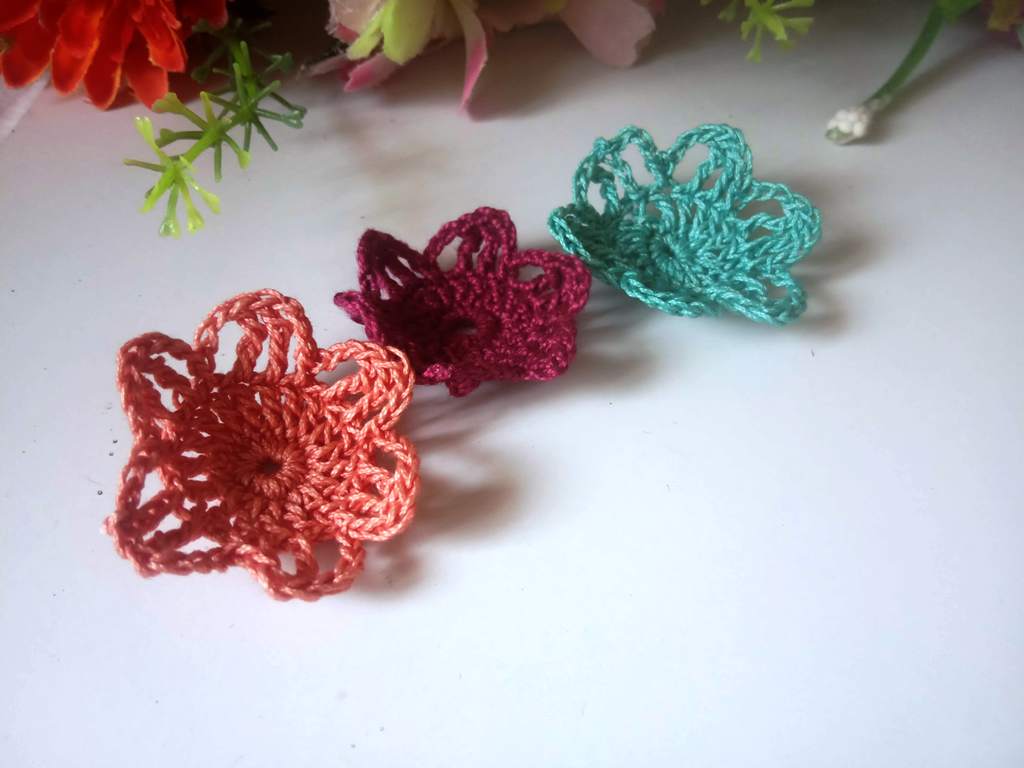 Suggestions for using the pattern
Design your jewellery with these pretty flowers, earrings, brooch, anklets, a long list to type.
Upscale baby accessories like botties, hairbands, hair clips with these elegant flowers.
Make a small bouquet and a keychain, perfect bag cham.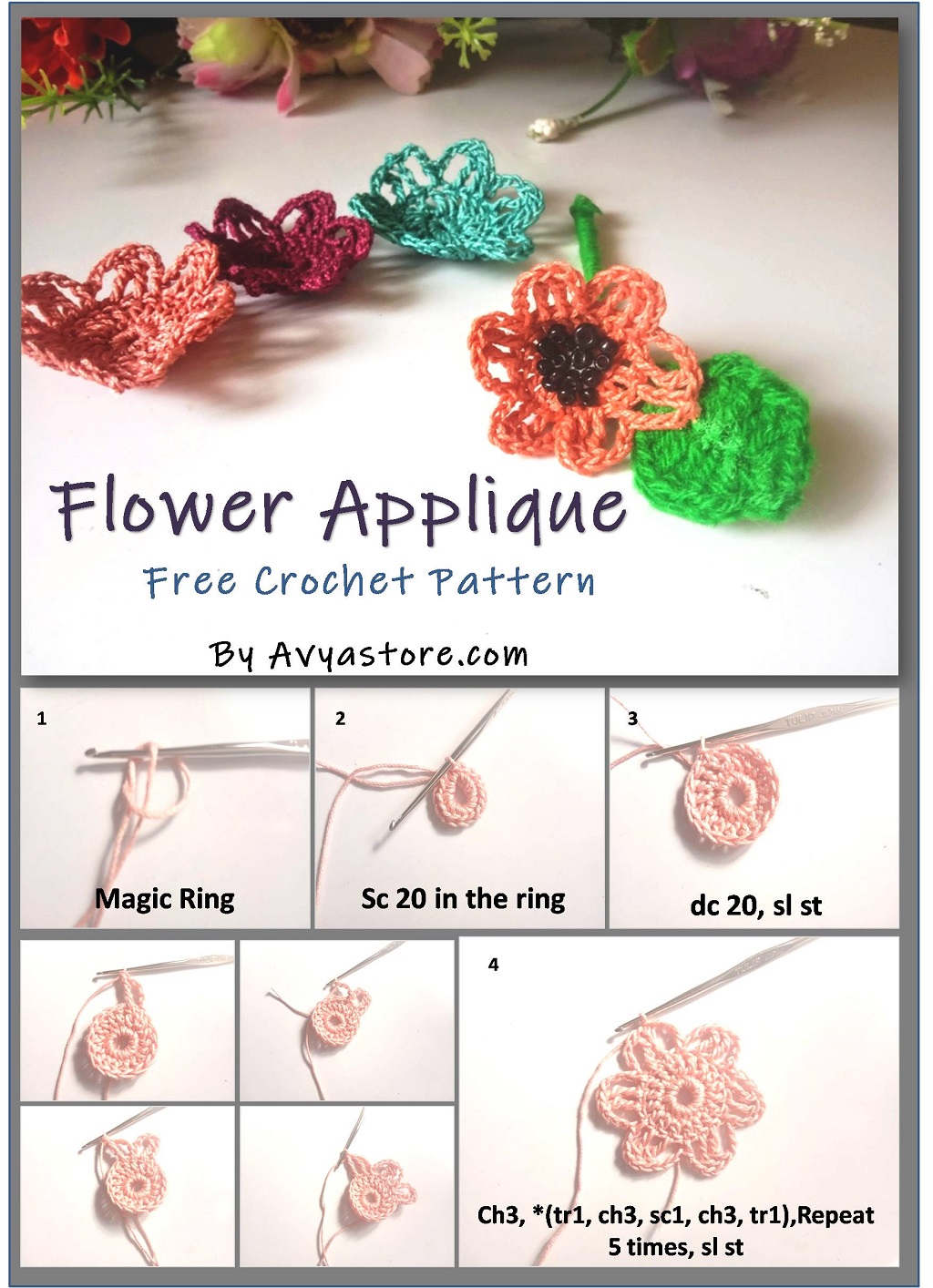 This pattern is for personal use only, do not copy-paste or repost the pictures, in case you like to share the post or photos, mention our blog name.
Read More
How to Crochet a Flower Motif –Free Pattern for Beginners
How to Crochet Laurentia Flowers – Free Tutorial