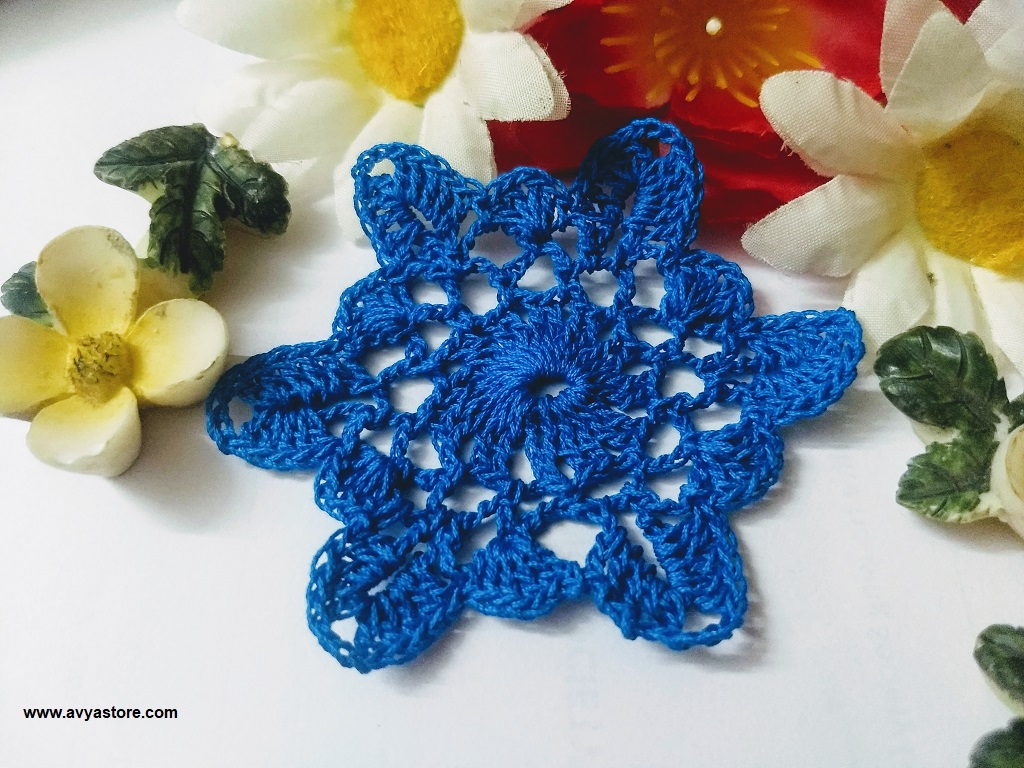 For today's project we will make the Hexagon Flower Motif This pretty flowers motif is worked in one color. It is crocheted in the round starting in the center and working outward from there.
Prefect project for stash clearance. This is an intermediate crochet project that works up quickly.
Supply List for Hexagon Flower Motif
Yarn or Crochet Thread: You can use just about any size yarn to make this project. We have used Anchor Size 20
Crochet Hook Size: To crochet the flower, we used a size I.25 mm steel crochet hook.
Tapestry needle for weaving in ends
Finished Size:
The flower measures about 2.0 inches in diameter. Flower sizes will vary based on supplies used and other factors.
General Direction:
Unlike most crochet patterns, this pattern has no gauge, no thread requirement and no hook sizes.
That's because you can vary the size and appearance of each motif to fit the needs of your project. If the motif is for a bedspread, you could choose size 5 cotton thread and an appropriate hook, the same motif could be made with size 10 cotton thread and a similar hook for a doily.
When choosing the thread and hook for your project experiment with a variety of threads to achieve the appearance and texture that pleases you.
Crochet Abbreviations Used in the Hexagon Flower Motif:
Slip Stitch= sl st
Chain = ch
Single Crochet = sc
Double Crochet = dc
Triple Crochet = tr
Treble Crochet 2 Together = Tr2tog
To know more about the various crochet abbreviations click the below link :
Details Instructions for the Hexagon Flower Motif:
Special Stitches:
Double Crochet 2 together (dc2tog) – [yo, insert hook in next st, yo, draw yarn through st, yo, draw yarn through 3 loops on hook] twice yo, draw yarn through 4 loops on hook.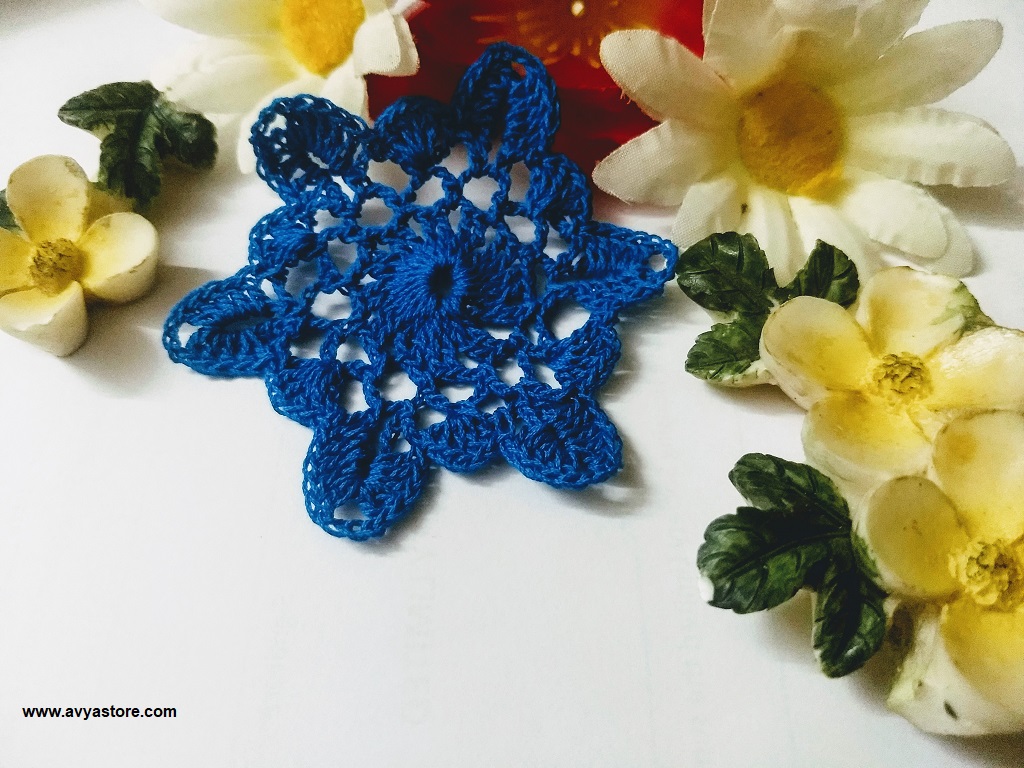 Instructions:
Ch 8, join with a sl st to form a ring.
ROUND 1
Ch 3,1 tr into ring [2 ch, Tr2tog into ring] 11 times, 2 ch, ss in first tr of round.
ROUND 2
Ss into 2-ch sp, 1 ch, [5 ch, 1 sc in next 2-ch sp] 11 times, 5 ch, ss in first ch of round.
ROUND 3
Ss into each of 2 ch, 1 ch, 8 10 sc in n same 5-ch sp, [5 ch, 1 sc in next 5-ch sp] 3 twice, 8 rep from * to * 4 more times, then onceagain from 8 to #, 2 ch, 1 dc in first ch of round.
ROUND 4
*[5 dc, 3 ch, 5 dc] in 10+ch loop, 1 sc in next 5-ch sp, [2 dc, 1 ch, 2 dc] innext sc, 1 sc in next 5-ch sp, *rep from * to * 5 more times omitting last sc of final rep, ss in first dc of round,
Finishing the Flower
Weave in the loose ends. If you crocheted your flower using thread or yarn that responds well to blocking, i.e. cotton or wool, feel free to block it if you wish. If you used synthetic yarn such as acrylic, there is no urgent need for blocking, although you could steam it a bit if you like. My sample flower has not been blocked, but it should be.
What Can You Do With the Poinsettia Flower Motif?
·         Attach it to a hat, headband or ear warmer.
·         Use one (or several) on any item where you'd like to have a pretty crocheted applique. For example, you could sew a flower to your favorite sweatshirt.
·         Use it to embellish a heart pouch or similar project.
·         Make use of thick yarn and convert the pattern to make pretty coasters.
·         Decorate your gifts using these flowers as Gift Topper.
·         These are just a few ideas. We are sure you can dream up many others!
Also visit our social sites
Facebook –  facebook.com/avyacrochet/
Twitter-  @avyahandmade
Pinterest – @avyahandmade
Instagram – https://www.instagram.com/avyacrochet/
Tumblr – https://www.tumblr.com/blog/avyastore