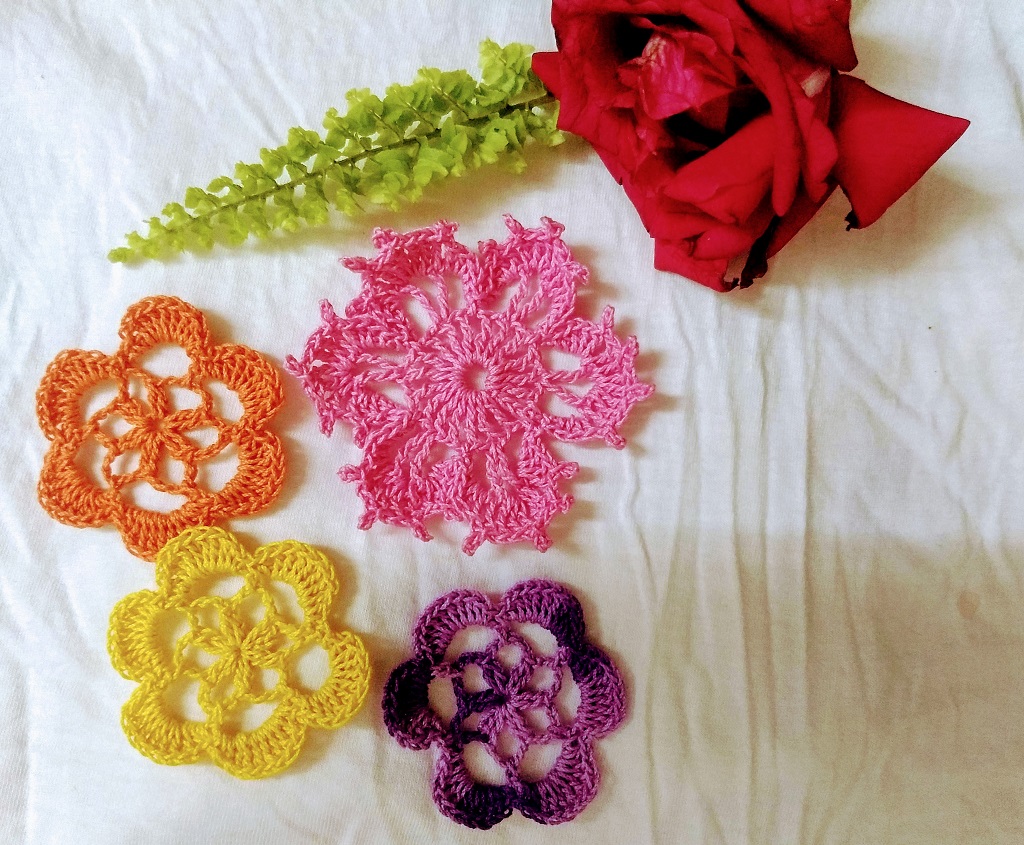 Stitch Flowers can be fun knit ventures whenever of year and they are certainly hot in the snares. Wonderful appliques and embellishments.
For the present undertaking, we will make two assortments of sewing blossoms. These pretty blossoms are worked in one shading. It is sewn in the round beginning in the inside and working outward from that point. This is an easy sewing project that works up rapidly.
Supply List for Crochet Flowers:
Yarn or Crochet Thread: Cotton mechanized thread.
Crochet Hook Size: To crochet the flower, we used a size I.00 mm crochet hook.
Tapestry needle for weaving in ends
Finished Size:
The flower measures about 1.5 inches in diameter. Flower sizes will vary based on supplies used and other factors.
General Direction:
http://www.avyastore.com/the-crocheters-guide-to-general-instructions-few-tips/
Crochet Abbreviations Used in the Crochet Flowers:
Slip Stitch= sl st
Single Crochet= sc
Chain = ch
Half Double Crochet = hdc
Double Crochet = dc
Treble Crochet = tr
Picot = pc
Double Crochet Together = Dc2tog (2 dc with a common top)
To know more about the various crochet abbreviations click the below link :
Details Instructions for the Crochet Flowers:
Flower with picots.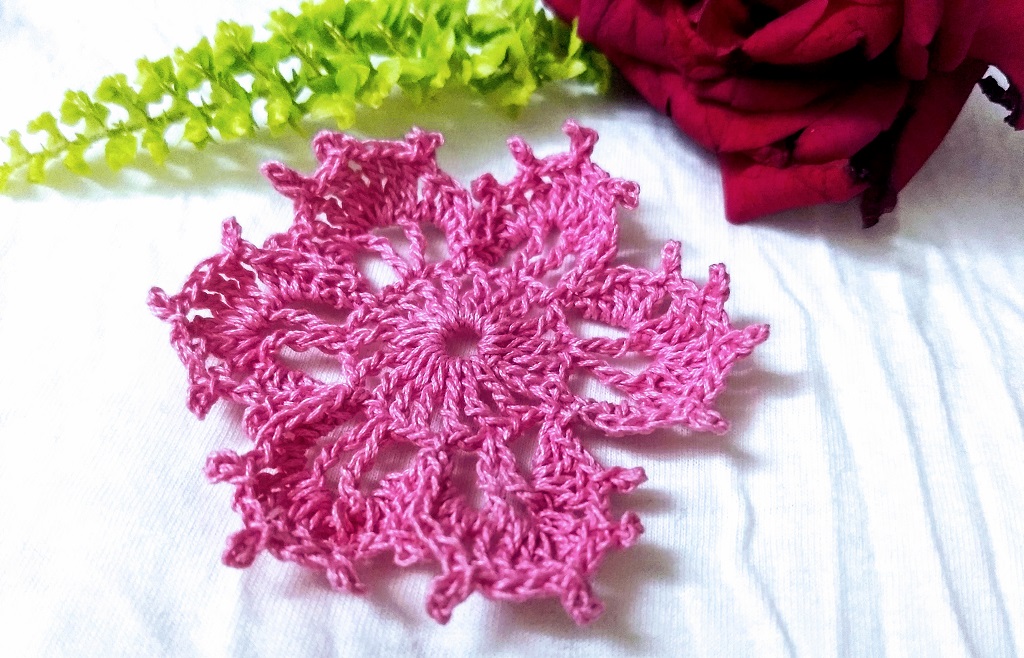 For this flower we have used Pink Color. Ch8 and Join to form a ring
ROUND 1
In-ring work *1 tr (4ch count 1st tr), 1 ch, rep from * 18 times; close with sl st in top st of ch-4.
ROUND 2
Ch 1, then work * 1 sc in 1st ch1p, 5 ch, skip 1 tr in the next tr work 1 tr. 3 ch, 1 tr, ch 5, then beg with next 1 p, rep from * around; close with sl st in 1st sc.
ROUND 3
Work 1sc in 1stch1p, then each petal thus; In 1st1p work 1sc. 1hdc, 3dc, 1pc (-4ch, sl st in top of last dc), 1 trc over trc, in next ch 1p (2 trc, 1 pc). 1 trc in same ch1p, 1 trc over trc, in next ch1p work 1dc, 1 pc, 2 dc, 1 hdc, 1sc; close with sl st in 1st sc.
Fasten off; use the Tapestry needle to weave the ends.
Flower with star center.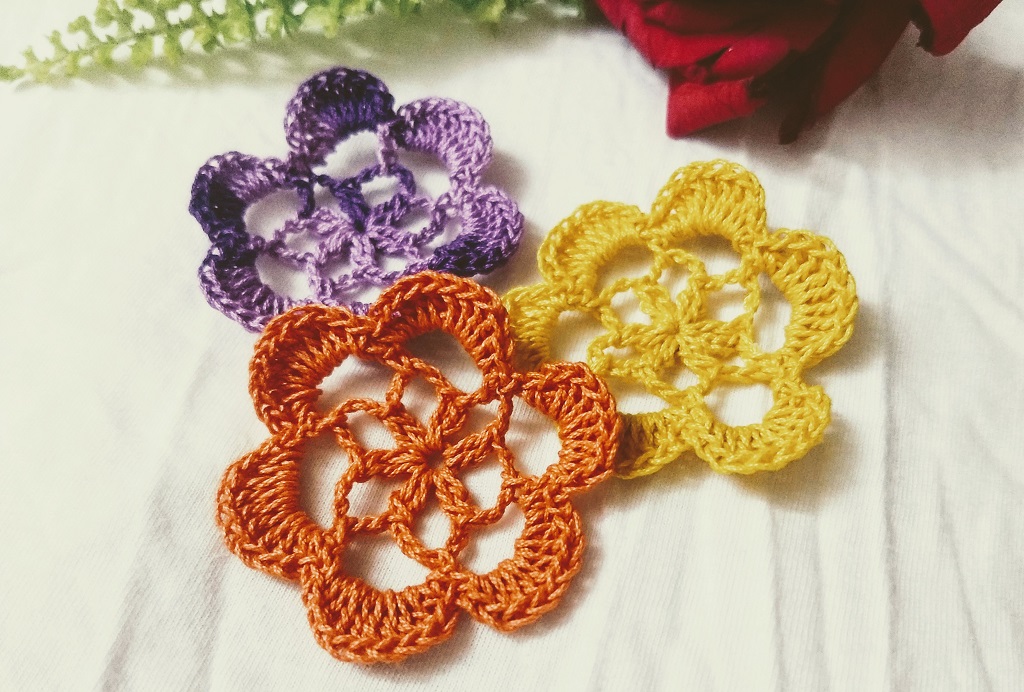 Make a Magic ring
ROUND 1
Raise with Ch 3 (consider as a dc), 1 dc,(ch 5, dc2tog) 5 times, ch 2, 1dc in top of first sc (count as of last ch-5 sp)
ROUND 2
(Ch 7, 1 sc in next ch-5 sp) 5 times, ch 7, join with sl st in the last dc of the previous round.
ROUND 3
Ch 1, (1 sc, 1 hdc, 7 dc, 1 hdc, 1 sc in next ch-7 sp) 6 times, join with sl st in first sc of this round.
Fasten off; use the Tapestry needle to weave the ends.
Few Takes from our side?
Attach it to a hat, headband, or ear hotter.
Use one (or a few) on anything where you'd prefer to have a pretty crocheted applique. For model, you could sew a blossom to your preferred sweatshirt.
Use it to adorn a heart pouch or comparable venture.
If you sew the blossom utilizing fine stitch string, you could utilize it as an emphasis on scrapbook designs or small collection pages. The thicker yarn rendition of this bloom could likewise be utilized on smaller than usual collection covers, where the measurement would not be an issue.
Make utilization of thick yarn and convert the example to make pretty napkins.
Decorate your blessings utilizing these roses as Gift Topper.
These are only a couple of thoughts. We are certain you can think up numerous others!