Tulip Etimo Rose Crochet Hooks Review by Avyastore.com
The ETIMO sequence is widely used all over the world. It comfortably suits your hand and is easy to carry, making crocheting a pleasurable experience. The cushion grip feels fantastic in your hand and makes you work more effectively! The high-quality crochet hook has a cushion grip and a smooth hook tip, making hooking and pulling through a breeze.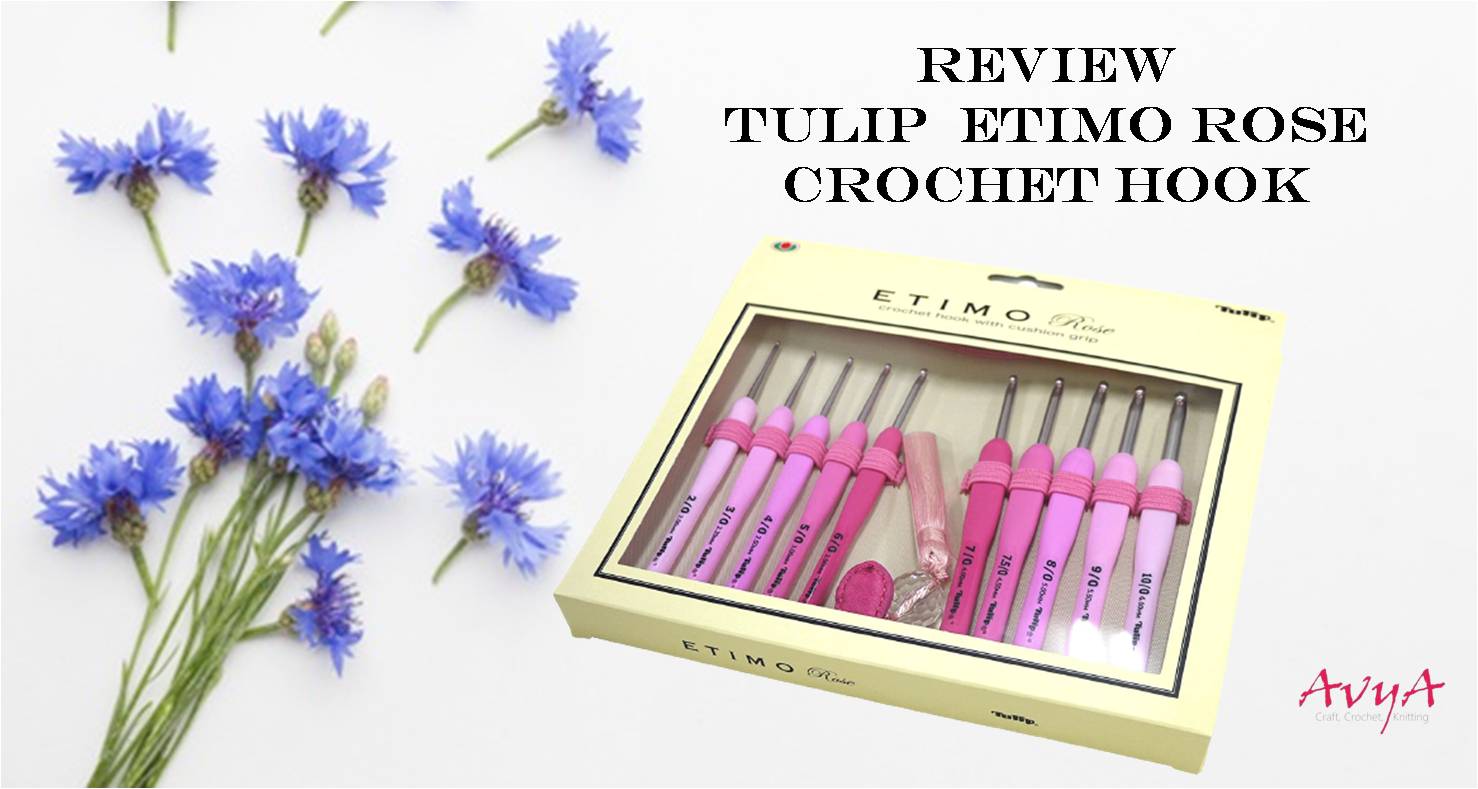 Company Background
Tulip is a Hiroshima-based brand that was founded by Mr Atsushi Harada and has a long history of manufacturing sewing needles, crochet hooks, and knitting needles.
Tulip steel crochet hooks are made of carbon steel and undergo multiple stages of hook grinding, hardening, and tempering to ensure a durable product.
To produce smooth, snag-free hooks, many are finished with gold plated tips. Because of their small size and good grip, crocheting lace with thread and beads is easy.
The Etimo Rose Set Contains the following
The preety pink case include 10 hooks (2.00,2.20,2.50,3.00, 3.50, 4.00, 4.50, 5.00, 5.50, 6.00 mm)
Scissors with curved blades, 2 no tapestry needles, a case with tassel.
About Tulip Etimo Rose Crochet Hooks
The cushion grip is convenient to use and maintain.
The French pink gradations of grips encourage users to enjoy crocheting even more.
The smooth-finish hook makes it simple to keep all stitches even.
The shape of the grip allows users to hold the grip in two ways: pencil holding and knife holding.
Tulip Etimo Rose crochets hooks measurement and specification:
| | | |
| --- | --- | --- |
| Size No. | Hook Size | Net Weight |
| 2/0 | 2.00mm | 11g |
| 3/0 | 2.20mm | 12g |
| 4/0 | 2.50mm | 12g |
| 5/0 | 3.00mm | 13g |
| 6/0 | 3.50mm | 13g |
| 7/0 | 4.00mm | 16g |
| 7.5/0 | 4.50mm | 16g |
| 8/0 | 5.00mm | 17g |
| 9/0 | 5.50mm | 18g |
| 10/0 | 6.00mm | 19g |
Price of Tulip Etimo Rose  crochet hooks:
The Tulip Etimo Rose steel crochet hooks price in India is Rs. 30500/-.
Where to buy the Tulip Etimo crochet hooks in India:
These hooks are not available in local stores. One can purchase the hooks from online e-stores like Amazon, Flipkart, eBay, etc.
Taking care of the crochet hooks.
When not using the hooks, keep the hooks in the case.
Clean the hooks when not in use.
Read Our Other Review Post
KnitPro Waves Aluminium Crochet Hooks Review