Tulip steel crochet hooks review by Avyastore.com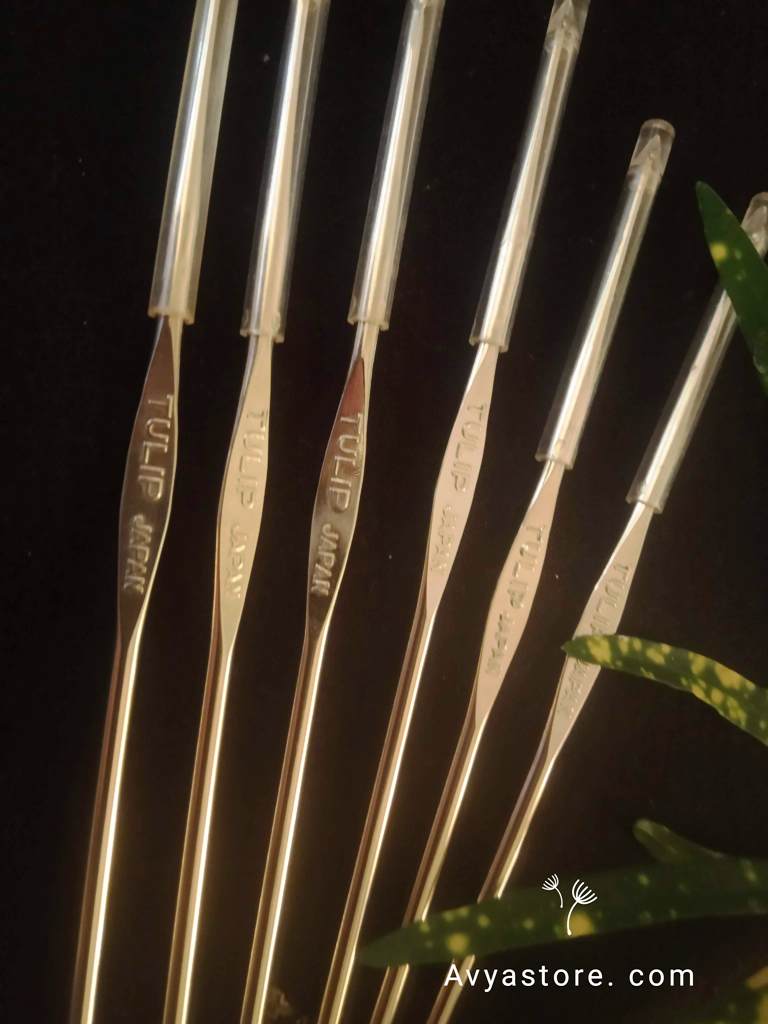 Tulip steel crochet hooks one of the most recommended and popular hooks for lace projects. I have been using the Tulip steel crochet hooks for the past 18 years. The best choice for crocheting delicate lace projects.
Made of steel, rust-proof, smooth and has a good grip. If you are looking at something that is having a long life; then the Tulip steel crochet hooks are must buy…
Company Background
Tulip brand based in the Hiroshima region, founded by Mr Atsushi Harada and having many years of experience in producing sewing needles, crochet hooks and knitting needles.
Tulip steel crochet hooks manufactured from carbon steel, further processed through stages of hook grinding, hardening, and tempering to ensure a firm product. Many are finished with gold plated tips to produce smooth, snag-free hooks. Because of their small size, good grip; it is easy to crochet lace with thread and bead.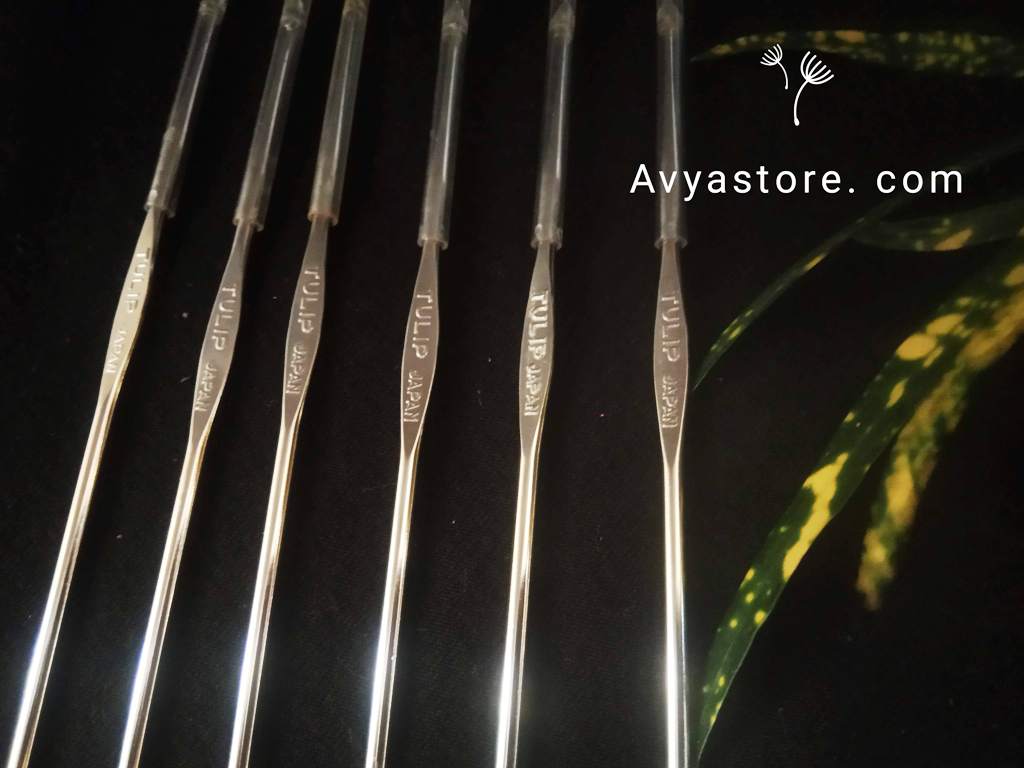 About Tulip steel crochet hooks:
Tulip steel crochet hook is both flexible and durable.
With a flawless balance between sharp curves and smooth edges, this is the ideal hook for crocheting.
Long-lasting, rust-proof, use it for decades.
Its great option for working with fine materials, such as a wire, adding beads to crocheted jewellery projects, etc.
This crochet hook also comes with a cap that keeps it protected.
Tulip steel crochet hooks measurement and specification:
| | | |
| --- | --- | --- |
| Size No. | Sire | Net Weight |
| 0 | 1.75mm | 8g |
| 1 | 1.60mm | 8g |
| 2 | 1.50mm | 7g |
| 3 | 1.30mm | 7g |
| 4 | 1.25mm | 7g |
| 5 | 1.10mm | 7g |
| 6 | 1.00mm | 7g |
| 7 | 0.95mm | 7g |
| 8 | 0.90mm | 7g |
| 9 | 0.85mm | 7g |
| 10 | 0.75mm | 7g |
| 11 | 0.70mm | 7g |
| 12 | 0.60mm | 7g |
| 13 | 0.55mm | 7g |
| 14 | 0.50mm | 7g |
| 23 | 0.45mm | 7g |
| 24 | 0.40mm | 7g |
 Price of Tulip steel crochet hooks:
The tulip steel crochet hooks price range from Rs. 25 to Rs. 40/- in India. Hook Size from 1.75mm to 0.50mm will cost Rs.25/- per hook, the 0.45mm and 0.40mm is available for Rs. 40/- each.
Full set of seventeen hooks will cost Rs.450 to Rs.500/-
Where to buy the Tulip steel crochet hooks in India:
These hooks are available in most stores locally. One get good deals in online e-stores like Amazon, Flipkart, eBay, etc.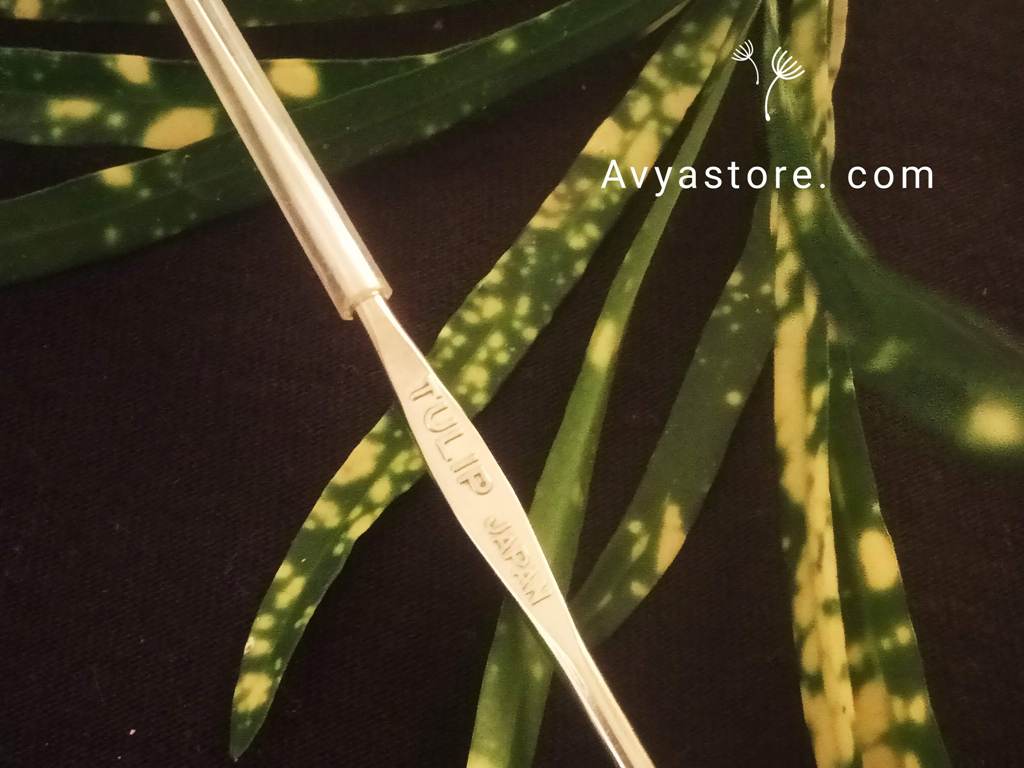 Taking care of the hooks:
When not using the hooks, cover them with the cap.
Wipe the steel hook with a muslin cloth.
Store the steel hooks in cloth pouches or container.
Get started with some stunning creation with this Tulip steel crochet hook. You'll want this useful tool around for all kinds of crochet projects.
The reviews in regards to Tulip steel crochet hooks are my personal views. The hooks are brought by me and not sponsored.
Read More About Hooks