Crochet Flower Brooch free pattern by Avyastore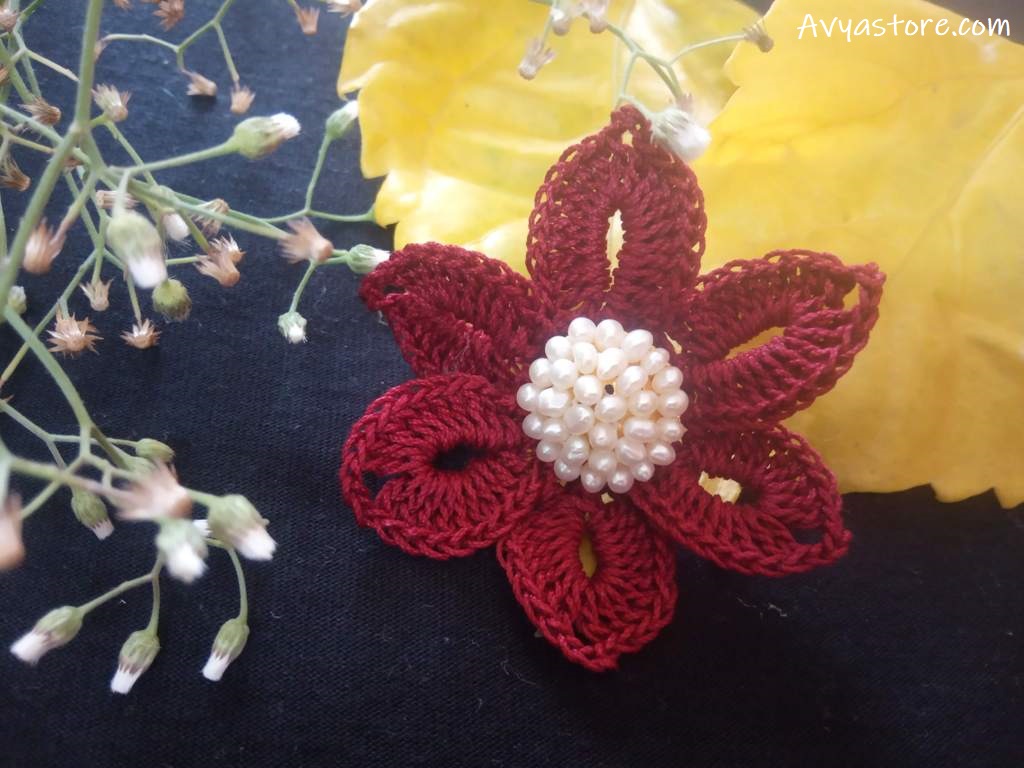 A brooch is a piece of attractive jewellery attached to garments. The use of the brooch is to fasten the garments. Moving through generation with its unique evolution from metal, clay, crochet to the fabric. In recent time the brooch or pin is added for decoration and to enhance the fabric beauty.
The brooch is one of the favourite gifts and is perfect for all festive seasons. Being in the festive season of Christmas I have made many crochet flower brooches for gifting my friends. The pattern is pretty and quick to make with least accessories supplies to add to the flowers. 
Materials list required for making the
Crochet Flower Brooch.
Crochet Lace Thread of 2ply Maroon Color.
1.0mm steel hook.
Scissors.
Beads for decorating the flower
Brooch Pin
Stitch guide and Special stitch instructions.
Ch = Chain stitch.
sl st = Slip stitch. 
sc = Single crochet.
dc= Double crochet. 
* = Repeat from the point.
Notes-
Ch3 at the beginning of the round which is considered as dc.

For demo purpose, 3ply cotton yarn with 1.5mm hook is used.

Measures – 2.5 inches

The pattern requires basic skills.
Instruction for making the Crochet Flower Brooch.
Start with a magic ring or Ch 6.
Round 1 – 
Ch3, 23 dc, sl st.
Round 2 –
Skip two dc, ch 10, sl st in the same dc, sl st in the next two dc. Repeat * (sl st in two dc, ch 10, sl st in two dc) 5 times more.
Round 3-
From the ending point of round 2, in the ch 10 make * (10 dc, 3 ch,10 dc, sl st ).
Repeat * for each of the ch 10 space.
Stiffening 
For stiffening the flower place the flower flat on a wooden platform, cover with a soft cotton cloth. Preheat the iron, with mild strokes press the flower till it retains its shape.
Decorating the
Crochet Flower Brooch
Use beads or sequences to decorate the brooch.
Add a brooch pin at the backside with hot glue. Another method is sewing the pin with thread.

Other uses of the pattern
Make some quick bookmarks using the flower pattern by adding a long string and a tassel.

The flowers are perfect for other jewellery like necklace, earring, etc. 
How to Crochet Verbena Flowers – Free Tutorial