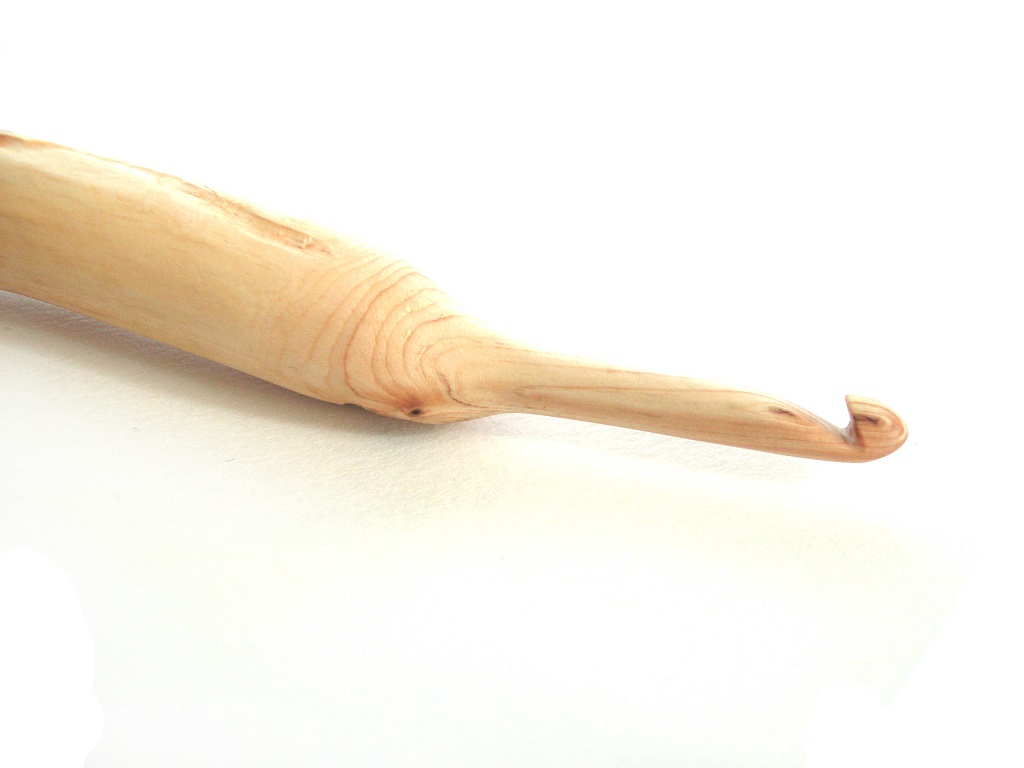 Crocheting is a technique that uses a crochet hook and yarn to create fabric from a series of interlocking loops. From granny –square blankets to fine lace, crocheted projects can take on various looks and levels of difficulty.
History and Evolution of Crochet Hook
The history of crochet hooks started with people fashioning their own, usually of wood, bone or metal. In Ireland, exquisite Irish laces were worked with hooks made from stiff wire inserted into a piece of wood or cork. The end of the wire was filed down and a hook turned at the end. Poor farmers often carved wooden hooks for their wives out of whatever was readily available.
Looking back through the history of crochet hooks, it's amazing that these early crafters could turn out such lovely pieces of needlework with the crude hooks with which they had to work.
As crochet grew in popularity and technology flourished, stitchers enjoyed a renaissance in the production of hooks. Crocheters in the upper classes could take their pick of beautiful hooks hand-carved from wood, bone or ivory, or made of mother-of-pearl, tortoiseshell, abalone, horn, agate or sterling silver, and sometimes inlaid with gemstones.
Moving to the early 1920s in the history of crochet hooks, sets of interchangeable hooks became popular. Each set consisted of a single handle, perhaps of bone or amber, with an assortment of short steel hooks generally ranging in sizes from 1 to 14. The crocheter simply selected the size hook she needed for her project and screwed it into the tip of the handle.
In America, the Boye Needle Co. produced the first complete line of American-made steel crochet hooks in 1917. Each hook sold for a nickel. Aluminum hooks appeared in 1923, and hooks for hairpin crochet were introduced in 1935.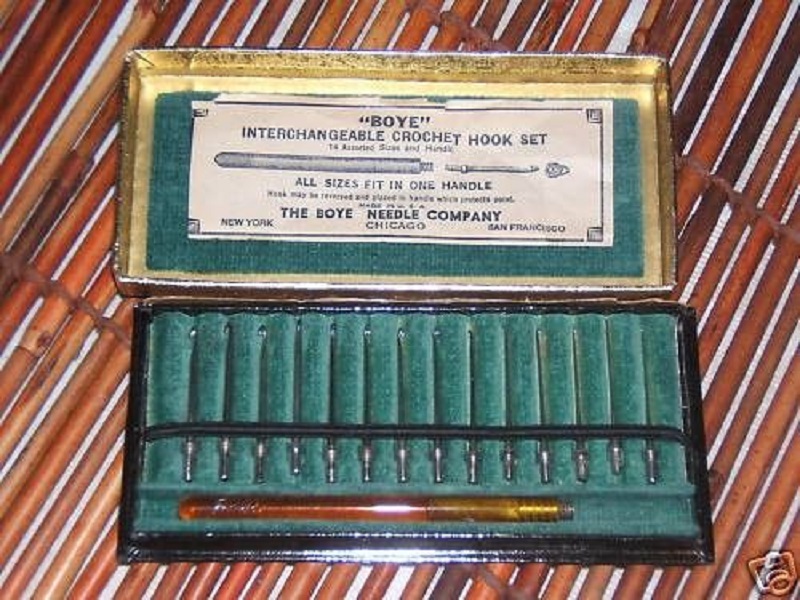 World War II forced the government to order the cessation of nickel plating for crochet hooks in 1942, and Boye began a special black plating process known as "hoto" black process, or hot oxide black process, in order to prevent corrosion of the hooks. Nickel plating was not reinstated until the latter part of May 1945.
The history of crochet hooks has progressed to a time when we enjoy the convenience and availability of crochet hooks in an almost limitless variety of eye catching styles and colors. From exotic woods and sparkling glass, to dazzling beaded and hand painted creations, we can revel in the pleasure of using beautiful, finely crafted crochet hooks that look  as good as they work!
The Anatomy of a Crochet Hook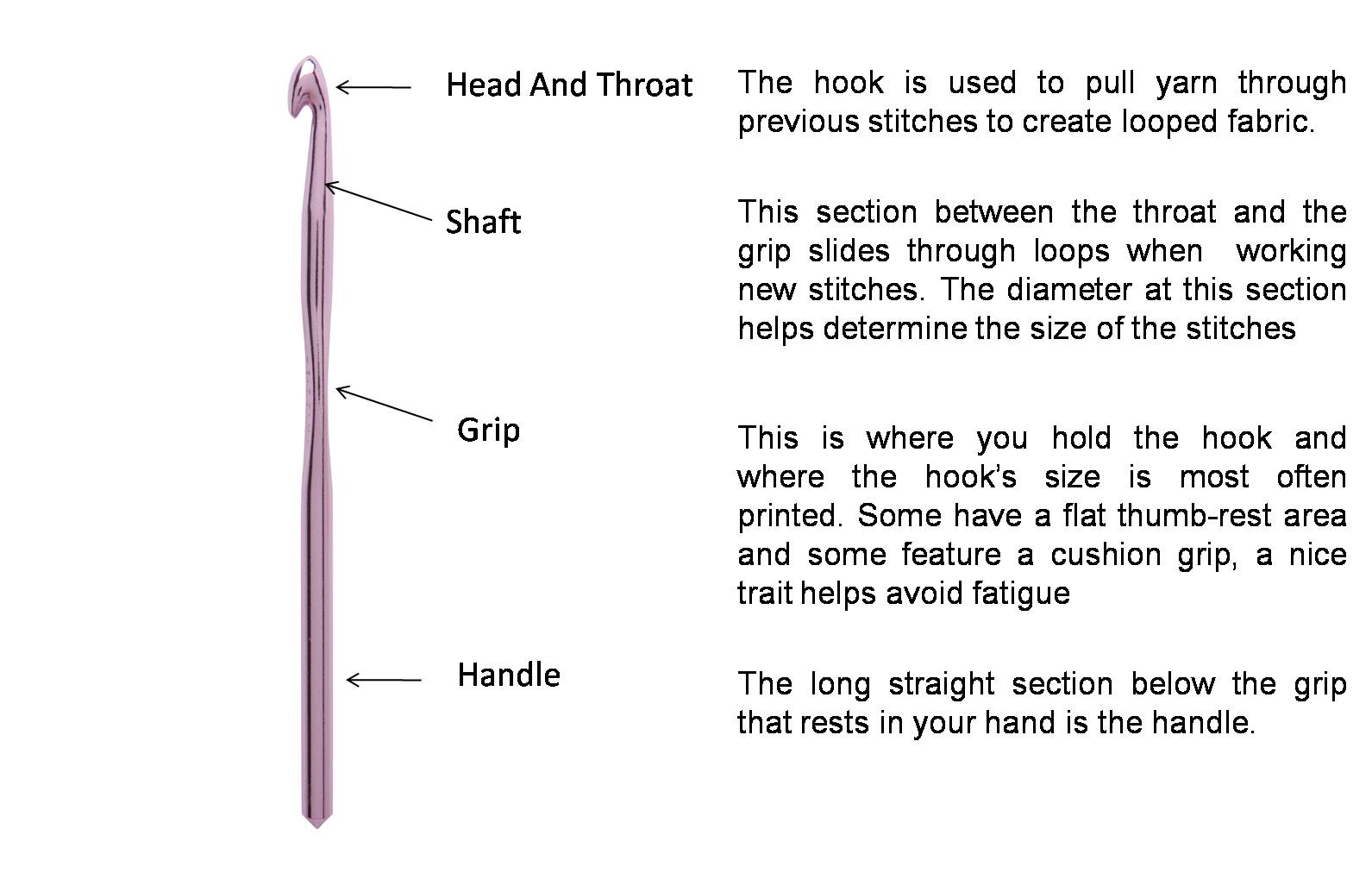 Types
Single-Ended.
The most common and simple crochet hook has just one hook. The basic maneuver for all stitches involves slipping the tip through a previous stitch and using the hook to pull the yarn through to create a new loop. A double-ended hook (also called double-pointed and abbreviated DP) features a head at each end. If your double-ended hook has different-sized ends, it's like having two hooks for the price of one and you can use either end for a project.
Double-Ended.
A doubled-ended hook with same sized ends is handy when working a pattern back and forth across a row because it allows you to flip the work and crochet in the other direction. It is most commonly used when working with two yarns and produces a surface that is reversible.
This double-sided technique isn't technically Tunisian crochet, but it's very similar. This interesting technique sometimes goes by the following names: cro-knit, cro-hook, crochet on the double, and crochetnit.
Tunisian Hooks
Tunisian crochet should be done on a very long crochet hook as the technique requires you to hold several stitches on the hook at once, just as in knitting. However, using a crochet hook with a cable is easier as it holds many more stitches. If working a wide project, such as an afghan, you'll definitely need a cable/hook combination.
Tunisian hooks are a nice addition to your stash as they are used for a fun spin on traditional crochet.
Others Classification involves the type of yarn used for the project.
Yarn Crochet Hooks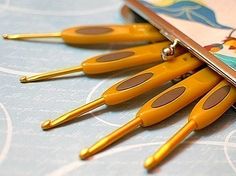 Aluminum is a durable, lightweight material that's ideal for larger crochet hooks meant to be used with yarn. Plus, it often comes in fun colors.
Bamboo is a strong, renewable resource that can be highly polished to create smooth crochet hooks. The natural material feels warm to the touch. If opting for this material, be sure to choose high-quality hooks that are professionally polished, sturdy, and resistant to wear. Top-quality bamboo hooks can last a lifetime.
Steel Crochet Hooks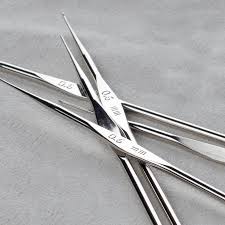 Thin crochet hooks with a very small head are made of steel for strength. These small hooks are designed to be used with thread in bead crochet, lace, and other fine projects. Here they are classified separately from yarn hooks because they follow a different sizing chart.
Other materials, including plastic, abalone, acrylic, and wood, can be used to make crochet hooks. Play around with hooks of all materials to find your preference.
Sizing
Length – Hooks with long handles can be easier to hold, especially if you plan to crochet for hours on end or if you suffer from arthritis or a similar condition.
Gauge – This indicates the number of stitches per inch. The following factors all determine your project's gauge: hook size, yarn size, and your personal stitching tension.
Yarn vs. steel hook sizing.
For hooks designed to be used with yarn, follow this rule: The smaller the hook number, the smaller the size. For steel crochet hooks used with thread: The larger the hook number, the smaller the size. Note that many yarn crochet hooks are also sized with a letter and that their U.S. number is equivalent to U.S. knitting needle sizes. The metric sizes refer to the hook's diameter.
Holding the Crochet Hook
There are different ways of holding the crochet hook. You will need to experiment and find the way that feels the most comfortable for you.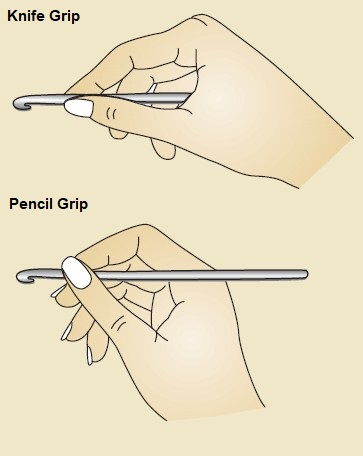 Knife grip, with the hook under the palm of the hand, resembling a knife held when held overhand.
Pencil grip, with the hook going over the crotch of the thumb, resembling a pencil.
These grips are functionally equivalent and selected as a matter of personal preference.
Few Tips while buying crochet hooks
Over time you will develop a personal preference for the size of hook, throat steepness and length, handle length, and grip type. However, regardless of these preferences, be sure to always choose a high quality hook with an expertly polished, abrasion-resistant finish in order to protect your yarn and to make crocheting a fun and fluid process.
So Many Brands for Selection!!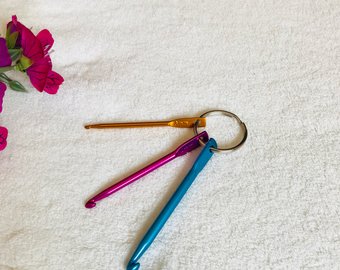 Clover Amour Crochet Hooks
Clover Soft Touch Crochet Hooks
Susan Bates Silvalume Crochet Hook
Addi Swing
Athena's Elements Crochet Hook
Tulip Etimo Rose Crochet Hook
Lion Brand Yarn 400-5-1907 Crochet Hook
ChiaoGoo Wooden Crochet Hook
Addi Steel Crochet Hook
Crochet Lite
Pony Crochet Hooks
Facts of Crochet Hook
For each crochet material there is a range of hook sizes.
The smallest of the hook will produce the tightest stitch; the largest will produce the loosest.
You cannot hook a small head over fat material.
Inconsistency between crochet hook sizes in different countries is very common.
Get Some interesting story on the History and Origin of Crochet