Crochet Tea Coaster – Free Pattern and Instructions by Avyastore.com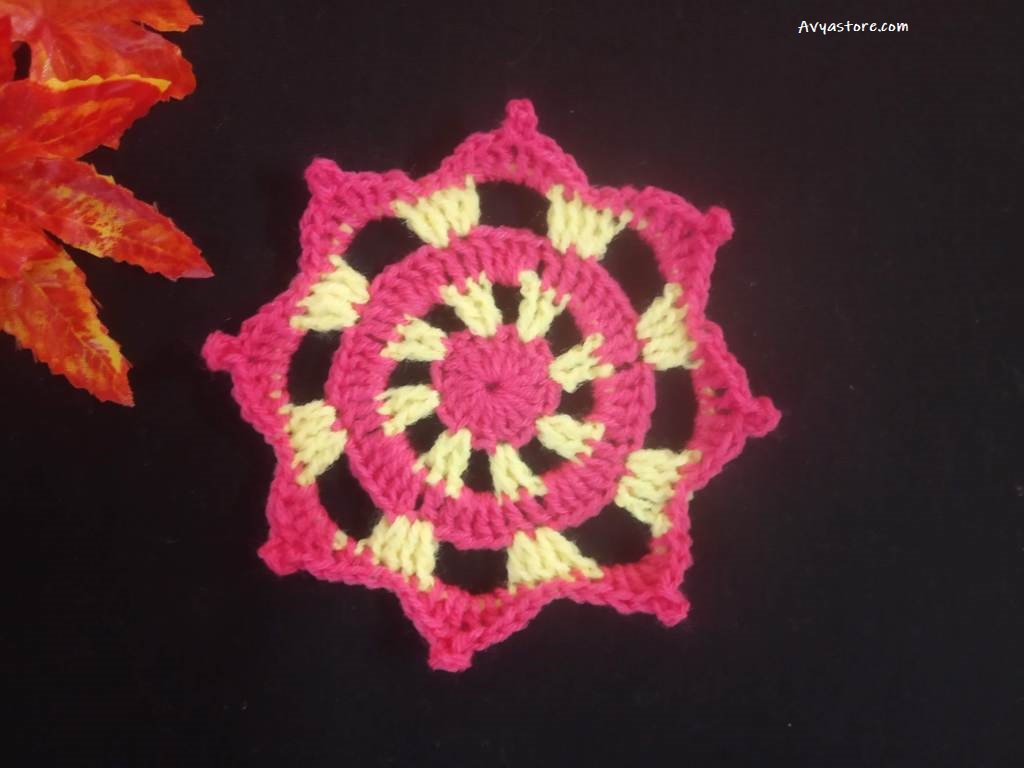 Ohh the weekend has arrived, we are all set to relax and are looking for a project that will be quick and give some pop to our home decor for this Christmas Season. So let indulge in a yarn stash project and my idea for today project is a crochet coaster!
The free design listed below is for beginners and require basic stitches. As mentioned earlier this is a yarn stash project, colours of any choice will suit I have made use of worsted yarn of two colours. You can make half a dozen of these crochet tea coasters in an hour or so.
Materials and Equipment list required for making the Crochet Tea Coaster
Worsted yarn 2ply colours of your choice, In this pattern pink and yellow yarn, is used.
Crochet Hook Size of 2.5 mm aluminium crochet hook.
Scissors
Stitch guide and special stitch instructions
sl st = Slip Stitch
sc = Single Crochet
ch = Chain
hdc = Half Double Crochet
dc = Double Crochet
Picot = Ch3, sl st in the third chain away from the hook.
Notes for Crochet Tea Coaster
The size of the coaster is 3.5 inch, will vary as per the supplies.
Alternate the pink and yellow yarn.
Ch3 made at the beginning of each round is considered as the first dc.
Instruction for making the Crochet Tea Coaster
Start the pattern with a magic ring.
Round 1 (Yarn -Pink Colour)
ch3, dc15, sl st. Total dc16.
Round 2 (Yarn -Yellow Colour)
Ch3, another dc in the same place, ch3 as chain space, dc2 in the third dc of the previous round 1. Repeat (dc2, ch3, dc2). End of the round there will be eight pairs of (dc2).
Round 3 (Yarn -Pink Colour)
Ch3, dc in next, in the ch3 space make dc4. Repeat to complete the round 3. End of the round 3 you will get 48 double crochet.
Round 4 (Yarn -Yellow Colour)
Ch3, in same, make another dc. In next dc2. Make ch5 chain space, skip dc4 of round3. In the next dc2 of round3 make dc2  each. Repeat. End of the round4 you have dc48 separated by ch5 each.
Round 5 (Yarn -Pink Colour)
sc1, sl st two times sc1. In the five chain space  (hdc1, dc2, picot, dc2, hdc1). Repeat seven times (sc1, 2sl st, sc1) in chain space (hdc1, dc2, picot, dc2, hdc1). End of the round5 you get eight petals.
Cut the loose ends and Fasten off.
These crochet tea coasters are distinctive as they are eco-friendly, washable and are handmade. You can use these to decor your tea table for festivals, parties, etc.
These tea coasters are great for gifting; for sure your friends will adore you.
Some Free patterns that are popular
Crochet your own Coaster in just four rounds – Free Pattern
How to Crochet Delicate Lace Dollie – Free Pattern
The pattern is a free listing, use the crochet tea coaster pattern for personal use, do share the post giving my blog the credits.